MP3 Rocket Pro offers access to over 12 billion free MP3s, music videos, movies, games, software, books and more without any download fee or fees per song. It is the largest download network with unlimited downloads.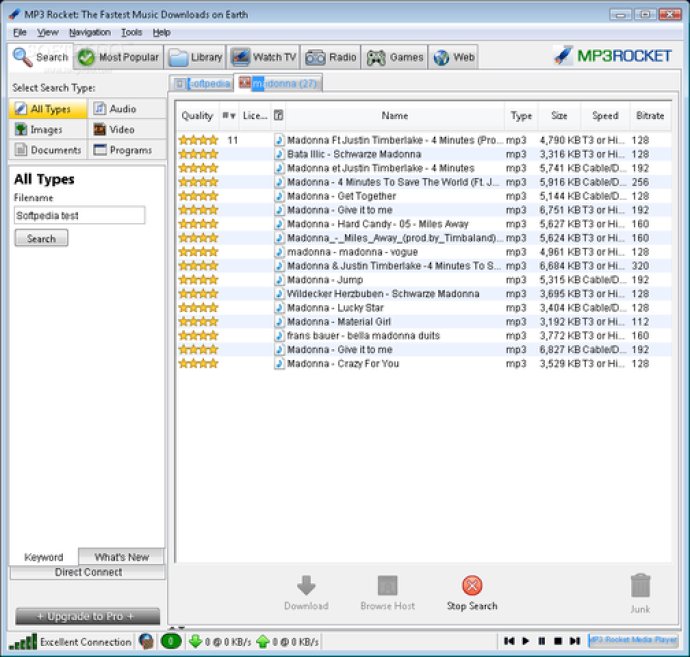 If you're on the hunt for a comprehensive music downloader, you'll want to check out MP3 Rocket Pro. This piece of software grants you access to over 12 billion FREE MP3s, music videos, movies, games, books, and more – so you're sure to find whatever you're looking for.

Among the many standout features of MP3 Rocket Pro is the ability to download an unlimited number of MP3s and movies with instant access. And best of all, there are no download or per-song fees to worry about. The download network is the largest one around, so you can get all your favorite songs and artists with ease. And because there's no adware or spyware, you can rest assured your computer will stay safe and secure.

Another great feature of MP3 Rocket Pro is the built-in CD burning capability. We provide all the tools you need to make your own CDs – so you can create personalized music discs for your car, home stereo, or parties with ease.

This software is compatible with all iPods, MP3 players, and CD players. So no matter what your device of choice may be, you can easily transfer your music and movies and take them on the go.

If you're still not convinced that MP3 Rocket Pro is the best choice for you, know that our satisfaction guarantee is 100% – so you can try it out risk-free and see just how easy and convenient it is to download all your favorite media with one easy program.
What's New
Version 5.3.4: N/A
Version 2007.7: N/A
Version 2007.6: N/A
Version 2007: N/A