MP3 WAV Studio is a versatile software that allows users to burn, convert, rip, and play audio files. It also enables MP3 file creation, encoding, decoding, and conversion to other formats. In short, MP3 WAV Studio is an all-in-one MP3 player and converter.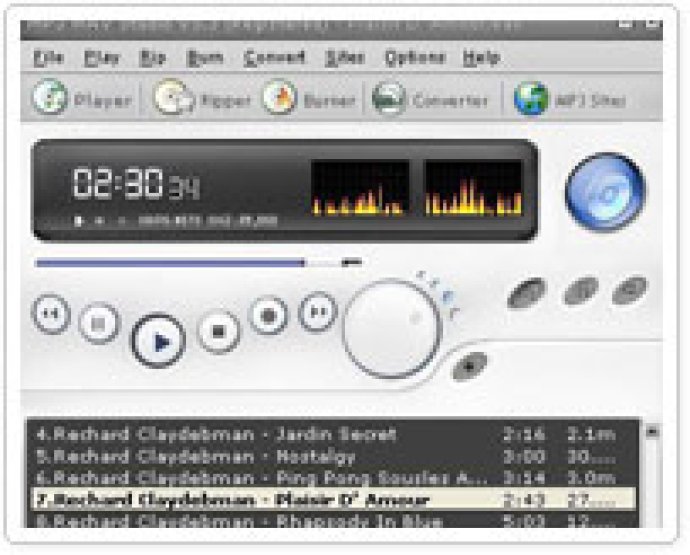 If you're looking for an all-in-one solution for your audio needs, MP3 WAV Studio might just be the software for you. Not only does it allow you to burn, rip and play audio files, it also includes features like creating, encoding, decoding and converting between MP3 and other formats.

One of the standout features of MP3 WAV Studio is its jitter-correction for ripping scratched CDs, which can save you a lot of headaches. It also offers burn proof, batch conversions, drag and drop playlist creation, and an MP3 site manager to help you manage your music collection more easily. Plus, it supports all popular audio formats, including MP3, WMA, OGG, VOX, WAV, and more.

The Audio Player is another great feature of MP3 WAV Studio, supporting an impressive range of audio formats like WAV, WMA, MP2, MP3, VOX, RAW, MPC, AVI, G.726, G.723, G.721, Ogg, AIFF, and AU. It also offers a visual representation of audio data to enhance your listening experience, as well as an easy-to-use playlist box that allows you to directly drag your music files for playback.

The CD Ripper feature is also impressive, allowing you to quickly rip from audio CDs to WAV, MP3, WMA or OGG formats directly without intermediate WAV files. It also supports jitter-correction ripping modes to restore damaged tracks from scratched CDs.

For those who need to burn audio CDs, the CD Burner feature is a great addition, allowing you to record audio CD discs On-the-Fly and erasing re-writable discs. Plus, it supports most modern IDE, USB, SCSI CD writers assembled in 2001 year or later, including Pioneer, Sony, Ricoh, HP, Toshiba, Plextor, Lite-On, Mitsumi, HP, LG, Philips, TEAC, Toshiba, TDK, and more. It also includes buffer protection systems like Burn Proof to ensure error-free recording.

Finally, the Audio Converter feature of MP3 WAV Studio supports Batch mode for fast converting of several files at once. It converts from MP3, WMA, WAV, AVI, OGG, MP2, MPEG, MPC, MP+, and G721 to MP3, WMA, ADPCM, DSP, MP2, VOX, OGG, GSM, G721, G723, G721 and A-LAW.

Overall, MP3 WAV Studio is a feature-packed piece of software that can handle all of your audio needs. With its intuitive interface and impressive range of features, it's definitely worth checking out.
What's New
Version 6.98.141115: new version released
Version 6.98.110228: released
Version 6.98.100818: released
Version 6.98.100610: released
Version 6.98.100420: released
Version 6.98.100312: released
Version 6.98.100210: released
Version 6.98.100111: released
Version 6.98.91125: released
Version 6.98.91018: released