Nero Standard 2018 allows for easy management, editing, burning, conversion, and streaming of digital content such as videos, photos, and music. The software now offers playback with subtitles and album art for an enhanced user experience.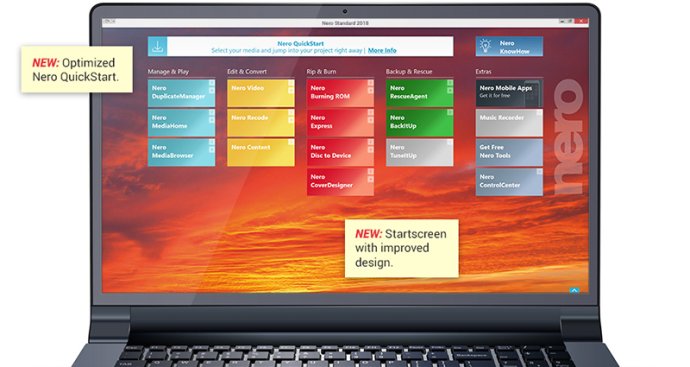 Nero Standard 2018 is an exceptional software for managing your digital life. It offers a wide range of features that make it easier to manage, edit, burn, convert, stream, and play back videos, photos, and music. With the new Nero QuickStart feature, you can access the ten most common tasks for bringing your multimedia files to life with just one click.

The software comes with countless stunning effects, playing video files with embedded subtitles, express editing, and the new, direct export of individual sections from long videos, ensuring maximum multimedia enjoyment in no time. Additionally, the innovative Gracenote integration allows you to tag your music with matching album art even when you're on the go, on the latest iOS and Android mobile devices.

The software also offers maximum data security for CDs and DVDs thanks to the latest SecurDisc 4.0 technology that comes with password protection and 256-bit encryption. Other benefits include Proven copying and burning technology for CDs, DVDs, and Blu-ray discs, playback of photos, videos, music, and slide shows, easy import of your own movies and videos, and versatile disc-ripping functions.

Fuss-free import of videos, audio files, and audio CDs, easy-to-organize and straightforward retrieval of music, videos, and other files in the universal media center Nero MediaHome, sorting and finding files by recording location, time, faces and keywords, syncing of photos and videos between PC and Android or iOS smartphones and tablets with the free Nero MediaHome WiFi Sync App, free Nero Streaming Player App for smartphones and tablets (iOS and Android) for streaming and playback on Xbox, PlayStation, smart TVs, and other players in your home network and Nero KnowHow App as an interactive learning guide with amazing tips and tricks.

The software also comes with a Nero MediaHome demo view to get you started quickly and allows you to easily design beautiful CD and DVD covers with Nero CoverDesigner. Overall, Nero Standard 2018 is a comprehensive and innovative software that offers a wide range of features, making it the ideal choice for users looking for an all-in-one multimedia solution.
What's New
Version 1.10.0.9: Stream videos to any Android and iOS device. Nero AirBurn: Burn files straight from your Android & iOS device.Browse & tag photos and videos with places ("Geotags"). New Nero Launcher with instant access to the entire suite.Change the video-disc format on the fly when authoring discs.