NetScanTools SSL Certificate Scanner displays SSL certificates of web servers, assessing their validity and supported connections. The tool scans multiple websites and internal business web servers, highlighting certificate data including certificate expiration dates and valid periods, as well as SSL chains.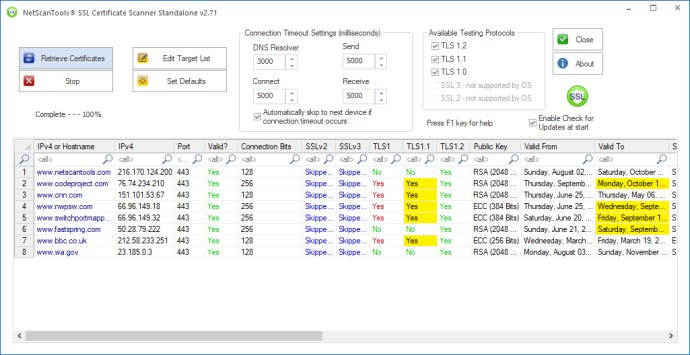 I recently used the NetScanTools SSL Certificate Scanner and was impressed with its functionality. The software allows users to easily scan web server SSL certificates from both websites and internal business web servers.

This tool proves especially useful for users who need to scan multiple websites, as it features a list of hostnames and IP addresses that can be scanned. The SSL Certificate Scanner also displays information about supported SSL connections, including some insecure connection methods. Users can view the certificates' valid to and from dates, as well as the certificate chain up to the root.

Printing is supported, and the software also allows users to export results for later viewing as text or HTML. A useful feature for those who may want to share the results from their scans with others.

What's more, users have access to a 14-day free trial before committing to the full version. The software is developed by Northwest Performance Software, Inc. and is a registered trademark of theirs. Overall, I found the NetScanTools SSL Certificate Scanner to be an efficient and effective tool for scanning SSL certificates, and would recommend it to others looking for similar functionality.
What's New
Version 2.72: Added a check in the Target List Editor to warn users to restrict testing to web servers only if ports other than 443 are found in the target list. Updated dates to 2021. Updated SQLite.