Detect, diagnose, and resolve account lockouts in real-time with ease using this free software product. Avoid the hassle of routine work and streamline your workflow.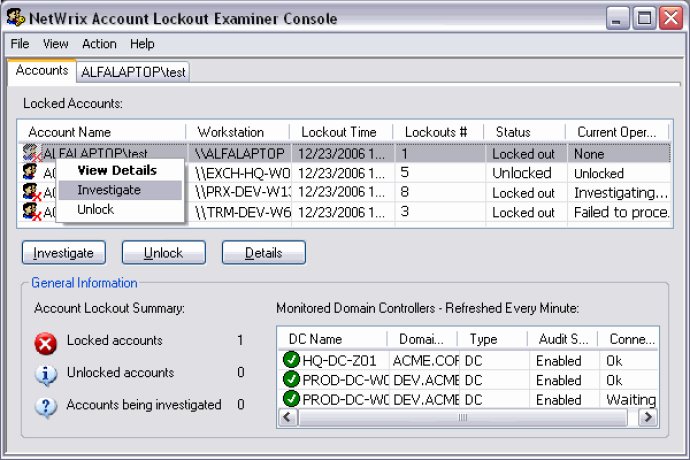 Are you tired of the endless help desk calls from Active Directory users who need their passwords reset? Do you feel like you're spending too much money on administrative staff to handle account lockout issues? If so, you're not alone. Implementing a strong password policy and account lockout policy is critical to succeed in today's business environment, but it can also lead to productivity losses and frustrated users.

So, how can you keep up strong security requirements while effectively resolving account lockouts? The answer is Netwrix Account Lockout Examiner. This software offers a one-stop solution to troubleshoot and resolve account lockouts quickly and efficiently.

With this product, you can detect, diagnose, and determine account lockout reasons in real-time, reducing the number of helpdesk calls you receive from users experiencing account lockouts. Additionally, resolving account lockouts quickly with Netwrix Account Lockout Examiner can increase user productivity and cut down on administrative costs associated with manually resolving account lockouts.

Overall, if you're looking for a way to maintain strong security requirements without sacrificing productivity or incurring additional costs, Netwrix Account Lockout Examiner is the solution for you.
What's New
Version 4.209.380: Major release, for the list of the features see the product website
Version 4.208.380: Major release, for the list of the features see the product website
Version 4.207.380: Major release, for the list of the features see the product website
Version 4.206.380: Major release, for the list of the features see the product website
Version 4.205.380: Major release, for the list of the features see the product website
Version 4.204.380: Major release, for the list of the features see the product website
Version 4.203.380: Major release, for the list of the features see the product website
Version 4.202.380: Major release, for the list of the features see the product website
Version 4.201.380: Major release, for the list of the features see the product website
Version 4.200.380: Major release, for the list of the features see the product website