Nice Lister is desktop software that simplifies the process of creating and organizing eBay listings. Intuitive tree-like organizing, a one-page listing editor, and the ability to save listings locally make it a convenient solution for individuals managing multiple eBay listings.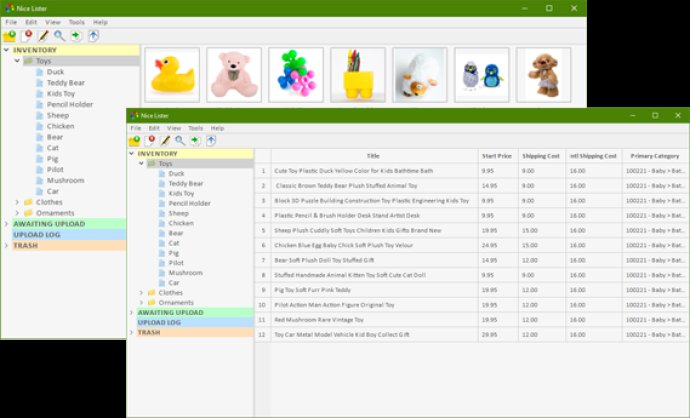 If you're looking for a convenient way to create and organize your eBay listings, Nice Lister may be just what you need. This desktop software has been designed with your eBay workflow needs in mind, and whether you're a seasoned seller or just starting out, it can help you streamline your processes.

Nice Lister offers intuitive tree-like organizing, making it easy to edit, find and organize your eBay listings. With structured storage, icon, and table views, you'll have the freedom to work with your listings in a way that makes sense for you.

One of the standout features of Nice Lister is its one-page listing editor. With drag-and-drop picture organizing and an easy-to-use rich text editor, you'll be able to edit and style your listings quickly and efficiently. Plus, the built-in description editor means that you won't have to learn HTML to create your descriptions.

Another benefit of Nice Lister is that it is desktop-based, which means you can work offline without any internet slowdowns. Your data will be stored on your computer rather than on a server, giving you more control over your listings.

Finally, it's worth noting that Nice Lister is a free software that is currently available in English. So if you're tired of clunky eBay listing tools, give Nice Lister a try and see how it can help you save time and streamline your processes.
What's New
Version 1.1.0: no