NotesHolder streamlines note-taking by allowing users to quickly input information and easily access it later. The software eliminates the need for physical clutter such as PostIt notes and sticky notes.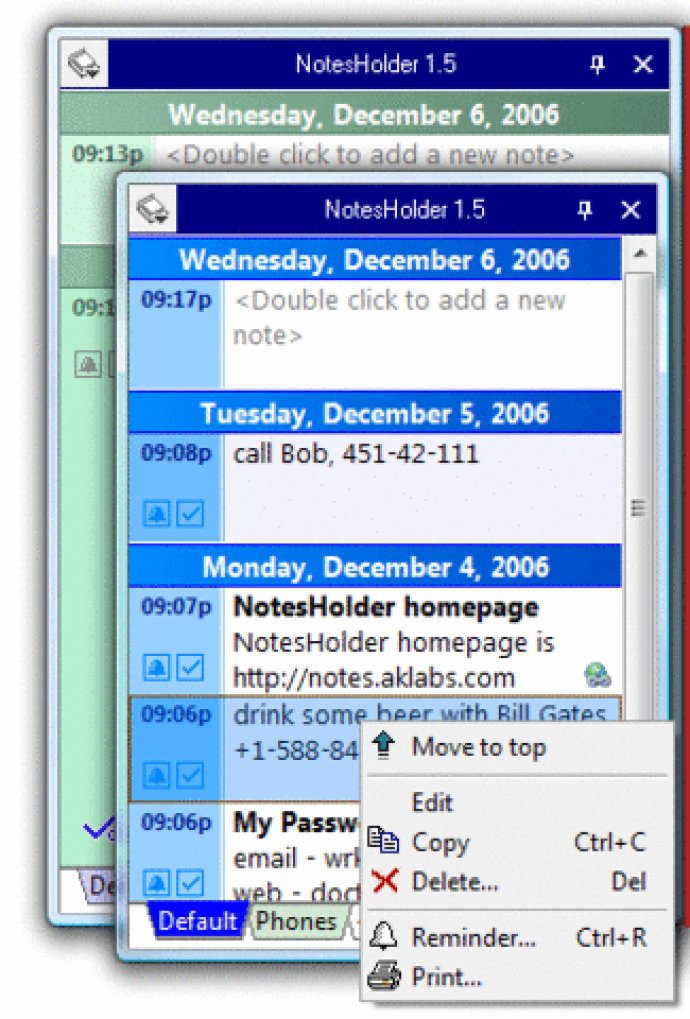 NotesHolder is a software that enables you to efficiently record and easily access any piece of information you may need. With this program, you can store all your notes without cluttering up your desk with Post-it notes. NotesHolder is the most effective way to organize and manage your notes in one place.

Unlike other similar applications, NotesHolder optimizes your screen space, making it very viable to run on your screen without disturbing or cluttering up your workspace. You can even turn off NotesHolder icon in the system tray. To access your notes, you move your cursor to the edge of the screen. Click once to create a new note or edit an existing one. Click once again to print the note.

Among NotesHolder's extensive features include mouse hover to see notes sorted by creation time and divided into categories. Also, the program has a category feature that supports even more organization. Print the notes with just one click, and the display shows the current date and time. Additionally, NotesHolder has a configurable font size, different color schemes, a multilingual interface, and many other noteworthy features.

Overall NotesHolder is an efficient note manager software that has all the necessary features for managing notes on your computer. It is organized, clean, and easy to use, making it a must-have productivity tool for anyone who has to juggle their life with various notes throughout the day.
What's New
Version 2.0: N/A
Version 1.65: Note filtering has been added.
Small visual improvements have been made.
Now it's possible to run NotesHolder right form usb flash or any other removable storage.
Version 1.33: (new) The "Single click to create a new note" option was added.
(new) Now it's possible to change the font size.
(bug) Minor bug fix.