This Windows Vista NTFS data restoration software scans storage drives, recovering deleted data including office files, audio, and video from crashed partitions. It also restores data lost due to system failure, virus attacks, or corrupted operating systems through deeply scanning the drive.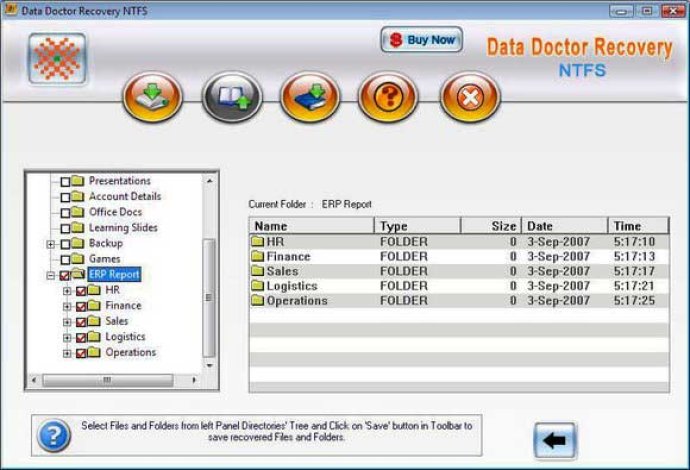 The Windows NTFS/NTFS5 partition recovery program offers comprehensive scanning for logically damaged hard disks, locating corrupted files, folders, lost Microsoft Office documents, hidden snapshots, movies, audio files, images, and other sensitive data. This NTFS disk restoration program retrieves information from a spectrum of data loss reasons: lost master boot records, invalid partition table, hardware or system software malfunctions, power failures, and corrupted operating systems.

The Vista NTFS partition recovery tool restores various file formats such as TIFF, JPEG, PCT, GIF, MPA, WMA, AVI, ASX, WAV, MOV, PNG, BMP, 3gp, MPEG, MIDI, MID, RIFF, PSD, AVI, xls, ppt, doc, jar, html, and txt, among others. This deleted NTFS file restoration program safely rescues critical and sensitive files from different NTFS-supported storage media such as USB drives, flash drives, and zip drives.

The software efficiently repairs bad sectors of various NTFS disk drives, such as SCSI, ATA, IDE, SATA, EIDE, and so on. It easily fetches data from formatted hard disks and rebuilds the encrypted system files. The rescue software is compatible with NTFS and NTFS5 file systems, making it a suitable option for all Windows operating systems, such as 98, ME, NT, 2000, 2003, XP, and VISTA.

Some features of the software include the provision of recovery of compressed/encrypted files, root directories, and the restoration of lost Microsoft Office documents, power point ppt, excel xls documents, word doc, Access mdb, and more. It is a read-only, non-destructive, and GUI (Graphical User Interface)-based application, making it user-friendly. The recovery software maintains data integrity and can even recover data after permanent deletion (shift+delete), hard disk formatting, and improper system shut down being performed.
What's New
Version 4.0.1.5: Added support for windows vista operating system