Vyapin NTFS Security Auditor is a robust reporting tool to audit NTFS security on your entire Windows network. It offers crucial insights into the security and well-being of your file systems on servers, ensuring comprehensive protection.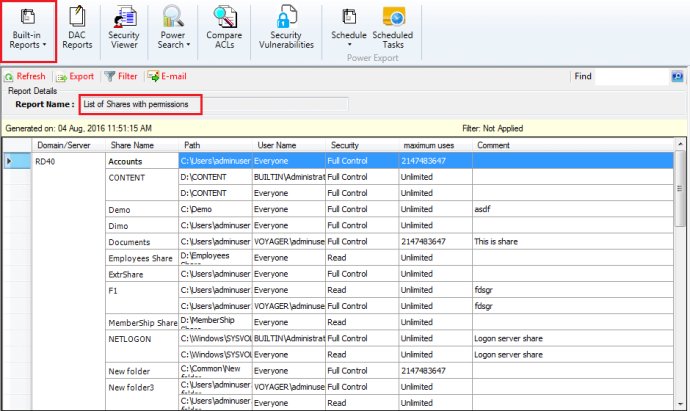 Vyapin NTFS Security Auditor is a comprehensive reporting software solution that enables auditors to conduct thorough inspections of NTFS security in their entire Windows network. With this solution, you can easily obtain answers to pertinent questions regarding the security of file systems on servers and workstations.

NTFS Security Auditor is equipped with a complete security scan feature that allows you to scan shares, folders, and files on your entire network. With an automated inventory capability, the software keeps track of the permissions for all your folders and files at regular intervals, ensuring the continuous monitoring of your NTFS security.

The software also provides a wide range of simple, elegant, and highly customizable audit reports for ease of use by system administrators, IT infrastructure managers, and systems audit personnel. Additionally, there are several powerful, ready-to-use reports available that cater to management reporting and compliance reporting requirements, including SOX and HIPAA.

Vyapin's NTFS Security Auditor is designed to serve the needs of administrators, with its wide range of capabilities that include administrative tasks and complex data preparation tasks for compliance purposes. In conclusion, if you're looking for a powerful and accurate NTFS security auditing software that caters to your unique administrative and compliance needs, Vyapin NTFS Security Auditor is a great solution to consider.
What's New
Version 4.2.0: Bug Fix