Nucleus Kernel FAT is a user-friendly and advanced software designed for easy data recovery on FAT16 and FAT32 partitions. It employs QFSCI technology to recover lost files, folders and partitions.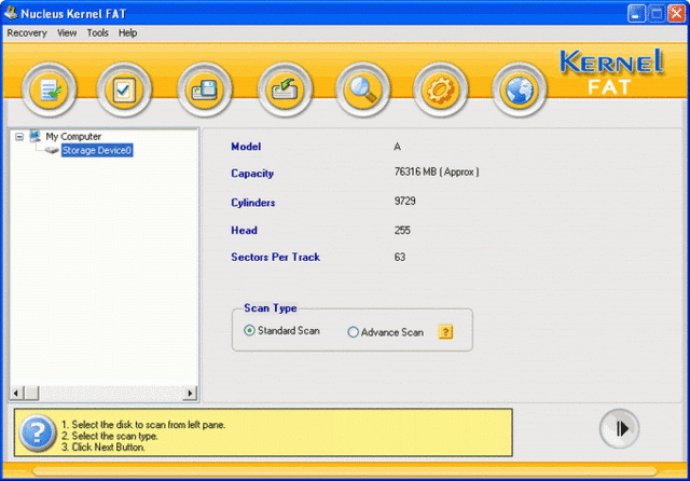 If you're looking for a reliable and effective FAT data recovery software, look no further than Nucleus Kernel FAT. This advanced and easy-to-use software is designed specifically for FAT16 and FAT32 partitions and utilizes QFSCI technology to recover lost partitions, files, and folders from corrupt hard disks with FAT partitions.

Widely used by home users, computer technicians, system administrators, R&D institutes, academic institutes, and defense establishments, this FAT data recovery software boasts a range of key features. For instance, it can recover data from deleted or corrupted FAT partitions, missing files and folders, and formatted disks. It can even recover data if the recycle bin has been emptied.

One particularly useful feature is the Save Snapshot feature, which lets you save a scan and then quickly load it later, saving time on re-scanning. Additionally, the Find option makes it easy to locate a specific file.

When you use Nucleus Kernel FAT, the software performs a complete scan of the corrupt FAT disk and attempts to recognize any lost partitions and restore the file(s), thus allowing FAT partition data recovery. It supports a range of hard drives, including Serial SATA hard disks, IDE hard disk drives, External USB drives, and Firewire drives.

Finally, the software works on all versions of Windows that support the FAT file system, including Windows 2000, Windows XP, Windows 2003, and Windows Vista. All in all, if you need a reliable and effective FAT data recovery software, Nucleus Kernel FAT is an excellent option.
What's New
Version 4.03: Not applicable.