This software offers a strong firewall, quick anti-malware, customized antispam, and a proactive Host Protection module for effective internet risk management. It also includes automated configuration and user-friendly features.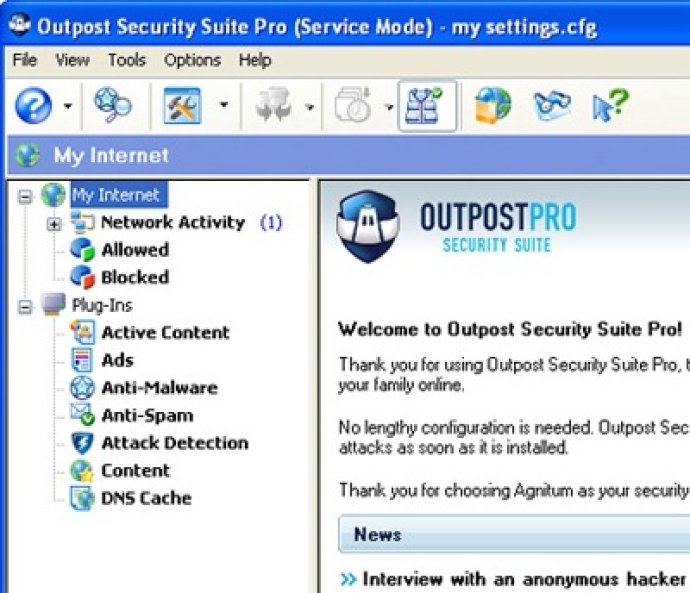 If you're in need of a proactive Internet security solution that can safeguard your PC from a broad range of current and future threats, then Outpost Security Suite Pro might just be the perfect solution for you. This powerful software integrates multiple award-winning tools such as Outpost Firewall Pro, anti-malware engine, unique Host Protection module and a self-learning anti-spam engine, all of which will work together to keep your PC secure at all times.

Outpost Security Suite Pro comes with a robust, bidirectional firewall that will make your PC invisible to hackers when you're online, enabling you to surf the internet privately and securely. The firewall also provides your PC with protection from possible malicious activities when it's connected to unknown or hostile networks. Outpost Security Suite Pro's anti-malware scanner not only quarantines and/or removes any active or idle malicious objects from your PC, but also deploys proactive behavior to prevent new malware infections, thereby minimizing conventional scan time.

By monitoring how programs interact with each other, Outpost Security Suite Pro's system can intelligently preempt and close down any unauthorized or malicious activity; this ensures your PC runs optimally at all times. The anti-spam module uses a Bayesian algorithm approach, allowing you to determine exactly what constitutes spam for you, and the longer you use it, the more efficient it becomes. Outpost's tamper-proof safeguard makes it impossible for the protection to be deactivated, while the ImproveNet community of users, along with Agnitum engineers, ensures that the most secure and up-to-date firewall configurations are automatically distributed to you whenever a new rule is certified for use.

Overall, Outpost Security Suite Pro is an extremely robust and efficient tool for keeping your PC secure, while being very easy to use, even for novice users.
What's New
Version 2007 (5.0.1252.7915.700): Major Update
Version 2007 (1214.616): Premier release