The photo booth cash control system integrates with Breeze DSLR Remote Pro and other software options, allowing you to collect payment for printed photos. This software puts money directly into your pocket.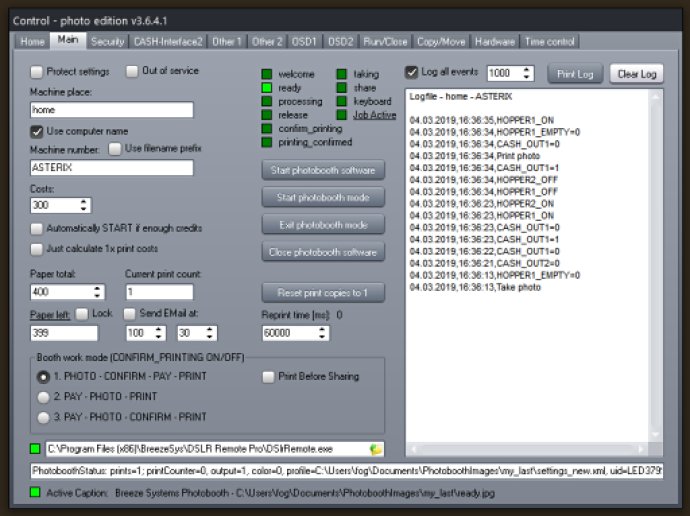 The Photo Booth Cash Control System is a software package that allows you to add a cash system to a range of popular photo booth software programs. With this system, you can charge money for printing photos, giving you a way to monetize your photo booth operations.

The package includes two components: the CONTROL software and the CASH-Interface2 (photo booth edition). It also includes cables to interface with various cash devices, such as coin and bill validators, push buttons, and lamps for illumination.

The CONTROL software is the heart of the system. It monitors the CASH-Interface2 and can control the photo booth software by sending keystrokes. For instance, if you connect a push button to IN1, it can send an F4 to the photo booth software to start taking a picture job. Similarly, a push button connected to IN2 can send a CTRL+R to start a reprint job. The software is also capable of controlling the photo booth software's on-screen display (OSD) buttons, so it's not necessary to use external buttons.

In the CONTROL software, you can do several settings. For example, you can set up the coin and bill validator, set the costs for a photo job, activate and set the position of the OSD, enter the machine name and place, activate email for the log file, windows security, and other settings. Meanwhile, the CTRL software will run invisibly in the background while the photo booth is in action.

When the DSLR is running, a green LED is lit, and the complete window title is shown on the bottom line. This way, you can detect the state of the DSLR software and send the necessary key strokes to control the photo booth software.

Overall, if you want an easy way to start charging for photo booth prints, the Photo Booth Cash Control System offers a comprehensive solution. It's easy to set up and use and includes everything you need to get started.
What's New
Version 3.8.1.8: > Version 3.8.1.8 (21.01.2023)
+ OSD2 Show number of copies text position setting
- fixed REPRINT button if "Show button1" is disabled in READY screen
* OSD2 transparency optimized
* OSD2 Show number of copies text optimized
* small optimizations