This software is a Slide Show that displays pictures on geometric shapes that rotate and move. It supports multiple pictures and audio files, with the ability to resize and move objects in the window.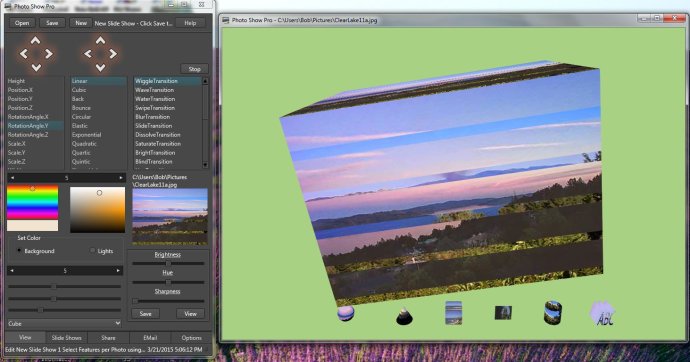 If you're looking for a software that could make your photos stand out, you should try Photo Show Pro. It is a Slide Show software that allows you to view your pictures wrapped around geometric shapes that rotate and move in different ways. You have the option to select multiple pictures and multiple audio files that play in the background. The objects can be resized, moved, and you have the liberty to set the movement speeds and the time between picture displays. Moreover, you can also change the window background color and lights on the photo.

The software has Rotational Effects and Transitional Effects that can be set per photo, giving you the liberty to create stunning slide shows. You have the flexibility to save multiple slide shows for later access and maintenance. Photo Show Pro is more than just a slide-show software; it is an extension of Photo Show with numerous photo-sharing capabilities. You can send and receive photos between Desktop Computers and mobile devices like tablets and phones running Photo Show Pro, Photo Show, Photo Snap, and File Viewer Express.

The software also offers the flexibility to upload and download photos between major Social Networks and Photo Sharing Networks, and photo albums can be viewed easily on these websites. You can select and add photos from these albums to your slide shows. An EMail module is also included, allowing you to connect to your EMail accounts sending and receiving Photos available for slide shows. Moreover, options are available to set the window style, effects, and email.

Slide Shows can be backed up and later restored, and you can share Slide Shows with Photo Snap and add Photo Snap Photo Albums to Photo Show Pro Slide Shows over LAN or WiFi. Photo Show Pro allows you to EMail Slide Shows and add received Slide Shows from Photo Show Pro to Photo Show Pro on other systems. Photo Show Pro offers a seamless, flexible, and efficient photo-sharing experience.
What's New
Version 2.4: Interface Improvements.
Version 2.3: Interface Improvements.