gPhotoShow Pro is a robust photo slide show and screensaver software. Its customizable features include media format support, transition effects, captions, and music. It ensures easy creation and sharing of personalized slideshows and standalone screensavers.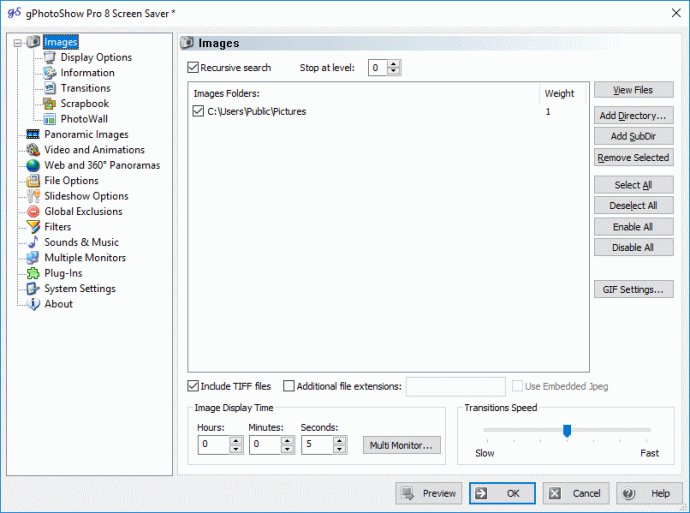 gPhotoShow Pro is an impressive photo slideshow and screen saver software that allows you to create limitless displays of images, videos, flash animations, and web pages. It is perfect for creating digital photo frames and can create professional-looking standalone slideshows/screen savers that can be sent through email or CD and can run on any Windows-based computer.

The software is notable for its capability to sort pictures, weighted randomization, user-defined image and file filters, stretching/shrinking, wallpaper creation, captions with filename, date and exif, iptc, and xmp info. GPhotoShow Pro also has a background music feature that supports MP3, Wma, Wave, and Midi formats.

GPhotoShow Pro has a wide range of 2D and 3D transition effects, pan and zoom animation, and scrapbook mode where multiple small pictures are overlapped over a background image. It also has photowall mode, multiple monitor support, image sets, picture frames, customizable pause/continue controls, and allows users to move/delete currently displayed pictures.

This software also supports Digital Camera Raw Files and has standalone/redistributable screen saver creation with plug-in support to expand program functions such as ImgFilters to enhance images, and MonitorOnOff to automatically switch-off the monitor or computer. With the RssFeeds plugin, users can even display news from RSS feeds and download photos from most online photo galleries such as Flickr, Picasa, Panoramio, Smugmug, and others.

Moreover, gPhotoShow Pro has full Flickr integration, and its Flickr plugin allows users to download both public and private photos from Flickr Photostreams, Groups, and Sets. This software is also compatible with a vast array of image file formats such as BMP, JPG, JPEG, PNG, GIF (including animated GIF), TIFF, panorama file formats like JPG, IVR, PAN, MOV, and video file formats such as AVI, MOV, MPG, WMV, and others.

Overall, gPhotoShow Pro is an amazing software for creating customized photo slideshows and screen savers with an extensive range of features that do not require advanced technical skills. Its user-friendly interface, advanced settings, and multiple editing options make it a must-try software for anyone looking to add a touch of creativity to their photos.
What's New
Version 9.0.0: New features and several bug fixes
Version 7.2.0: New features and several bug fixes