This software analyzes cell phone data including text messages, contacts, registry records, and installed applications. It displays this information in a clear tree structure for easy navigation. Ideal for forensic investigations.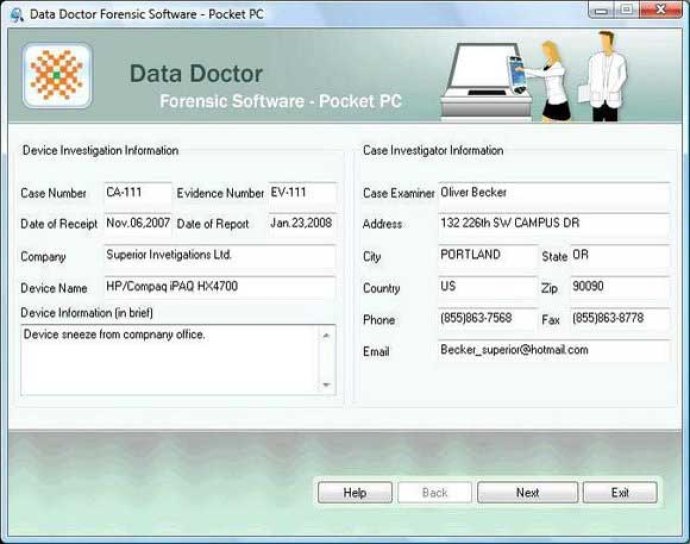 The Pocket PC Surveillance Investigator software offers users the ability to extract a variety of cell phone information, including the model name and IMEI number, SIM card IMSI number, text messages, contact name and numbers detail, installed application details, and total database records. This computer forensic tool synchronizes a user's mobile phone device with their PC, making it easy to transfer information, settings, folders, and files between the two devices.

With this PDA mobile phone investigator utility, users can generate detailed reports in either HTML or TXT file format. This software is compatible with Windows-based operating systems, including 98, 2000, 2003 server, XP, and Vista. Additionally, this smartphone forensics application analyzes file location in the form of a directory tree structure and date and time of file creation. It also supports all major brands of mobile phones, such as Audiovox SMT5600, Carrier Devices i-Mate, Dopod StrTrk S300, E-ten M600, E-ten P300B, Gigabyte g-Smart i120, Asus P505, and Audiovox PPC-6601.

The PC forensics investigator program can examine phone task information, audio, video, and picture files as well as folders, mobile phone architecture information, and subscriber name and identity. However, no special skills are required for software operation.

Some of the key features of this software include a user-friendly GUI look that offers convenient help and support options. Additionally, Pocket PC forensics software supports all major and latest brands of mobile phones, including smartphones, Dopod StrTrk S300, E-ten M600 Pocket PC Phone, E-ten P300B Pocket PC Phone, Gigabyte gSmart i120, and many more. Lastly, this PDA handheld application inspects mobile phonebook contact numbers with name and other saved detailed information, and the smartphone forensics utility examines installed applications, subscriber name and identity, and manufacturer details.
What's New
Version 3.0.1.5: Added support for latest Pocket PC