Power Mixer is a Volume Control replacement software that enables effortless adjustment of sound volume with mouse wheel or hot keys. Besides the audio mixer, it features a scheduler, OSD, command line support, and customizable presets, providing an all-around solution for sound volume management.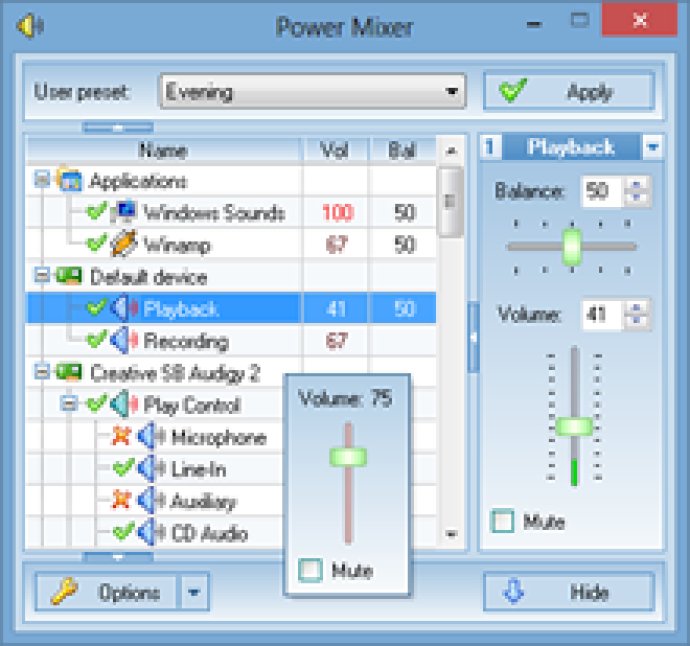 If you're looking for an advanced Windows audio mixer that can replace your standard Volume Control, then Power Mixer is the perfect solution for you. This software is packed with a range of advanced features that make it easy for you to fine-tune your audio experience according to your liking.

One of the most notable features of Power Mixer is the ability to quickly and easily change sound volume using your mouse wheel or keyboard hot keys. This means no more fiddling around in menus or control panels just to adjust your audio settings!

The audio mixer feature of Power Mixer is also incredibly robust, with advanced volume control support that allows you to customize settings to a very high degree. Additionally, there's an on-screen display that shows you exactly what's happening with your audio levels in real-time, as well as command-line support for more advanced users.

Perhaps one of the best features of Power Mixer, however, is the ability to store and recall different unlimited presets with just one mouse click or system-wide hot key. This means that you can change all the sound parameters at once, making it especially useful for gamers or audio professionals who need to make quick adjustments.

Overall, Power Mixer is an excellent choice for anyone who wants to take their audio mixing to the next level. Whether you're an everyday user or someone who works with sound professionally, this software has everything you need to create the perfect audio experience!
What's New
Version 2.10: N/A
Version 2.9: N/A
Version 2.7: N/A
Version 2.4: N/A
Version 2.3: N/A
Version 2.2: N/A
Version 2.1: N/A
Version 2.0: N/A
Version 1.7: N/A
Version 1.6: N/A