Pricepirates is a free software for comparing prices of thousands of online stores in the US, UK, and Germany with eBay auctions. It allows users to track and receive reminders for upcoming auctions, while also maintaining a separate watchlist for specific auctions.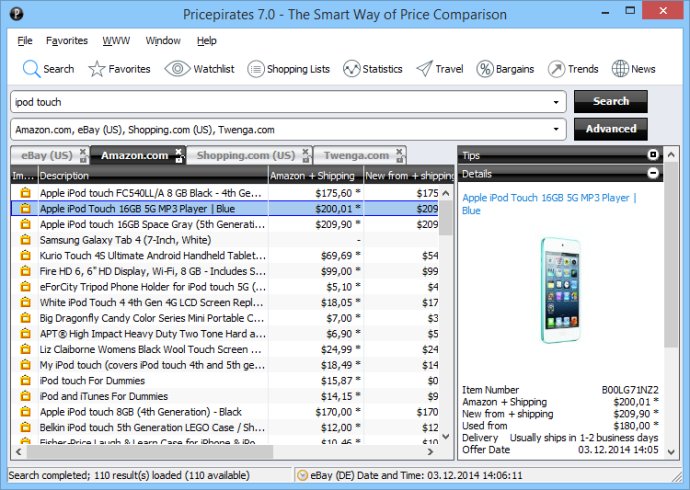 Pricepirates is a highly efficient and user-friendly price comparison software tool that is available to users completely free of cost. With this tool, users can easily search for products from across the globe with just a few simple steps. The software covers a wide range of merchants, including more than 95% of the top 300 merchants in the U.S., leading merchants in the U.K., thousands of online stores in Germany, and eBay in up to 13 different countries.

To use Pricepirates, all you have to do is enter the name of the product you are searching for, and the software takes care of the rest. It generates comprehensive lists of prices that can be sorted and selected according to various criteria. With just a single click of a mouse, users are directed to the corresponding online store or eBay auction page where they can make their purchase.

One of the standout features of Pricepirates is its ability to allow users to add auctions to their watch list. This feature helps users stay organized and keep track of auctions they are interested in. Additionally, the software can even send reminders about auction ending times via SMS cellphone messaging.

Pricepirates also offers an integrated statistics function that enables users to conduct detailed graphical analyses of price developments for both single products and groups of products in online auctions. This feature provides valuable insights for users looking to make informed purchasing decisions.

Moreover, Pricepirates is optimized for Buyertools Reminder, allowing users to bid on eBay and set up Reminder autobidding tasks directly from the program. This integration enhances the overall convenience and functionality of the software.

Other notable features of Pricepirates include smart search options for finding last-minute bargains on eBay, an integrated web search, adjustable background search with saved parameters, automatic program updates, and free support through the website and email. The software is also completely free of spyware, ads, and popups, making it a trustworthy and hassle-free tool for all your online shopping needs.

In conclusion, Pricepirates is an impressive price comparison software tool that offers a seamless and efficient way for users to find the best prices for products worldwide. With its extensive merchant coverage, comprehensive price lists, convenient features such as watch lists and SMS reminders, and useful statistical analysis function, Pricepirates stands out as a reliable and user-friendly software solution. Its freeware nature and absence of any intrusive elements further enhance its value and appeal to users.
What's New
Version 7.12: N/A
Version 7.11: N/A