Recover Data for Word is a secure software tool that repairs and recovers corrupt Word documents, including all elements such as text, pictures, charts, and hyperlinks. This tool is compatible with all versions of MS Word and works effectively as a word reader software.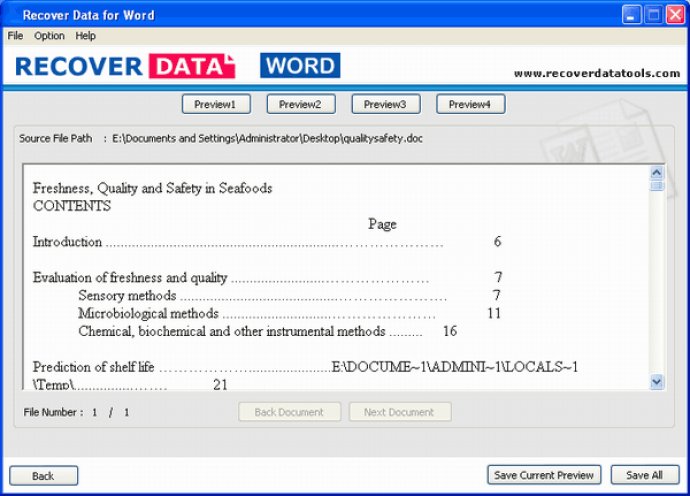 Recover Data for Word is a powerful and reliable Word file recovery software that is suitable for all kinds of users, from big enterprises to home users. This software allows you to easily recuperate and re-establish valuable text, pictures, clip arts, hyperlinks, charts, bulleted lists, and more from corrupted, damaged, or inaccessible Word documents (.doc and .docx) files of Microsoft Word.

With Recover Data for Word file repair software, you can fix Word documents and restore all Meta data from corrupt Word documents files that get corrupted due to virus attacks, bad sectors or media corruption, and more. The software scans (reads) corrupt MS Word files and extracts all meta data such as tables, embedded images, word art, field objects, hyperlinks, headers, charts, and more, and saves them into a new Word file (.doc or .docx).

One of the best features of Word Recovery Software is that it can repair corrupt Word document files even if you're faced with the following error messages: The document name or path is not valid. Try these suggestions. Check the file permissions for the document or drive; Word cannot open the document; user does not have access privileges; When you attempt to open a Microsoft Word 97 document into Microsoft Word version 6.x or 7.x, the document contains garbage characters; Microsoft Word has encountered a problem and needs to close; Unable to connect to Microsoft Word.

Recover Data for Word file repair software is designed with many user-friendly features, such as the ability to preview Word documents before saving them, rename Word files before saving them, filter doc files with date, time & size, and resume repair process & start it later. The software also allows users to view recovered Word files with its four previews before saving the recovered documents.

If you need to repair corrupt Word documents, then try Recover Data for Word reader software at an affordable price. The software supports repairing of (.doc and .docx) files created in Microsoft Word 95, 97, 2000, XP, 2003, and 2007. Overall, Recover Data for Word is an excellent software for all your Word document recovery needs.
What's New
Version 1.0: Updated Features