RecoveryRobot Pro is a user-friendly and comprehensive data recovery software that offers a high success rate for data recovery in almost any data loss situation.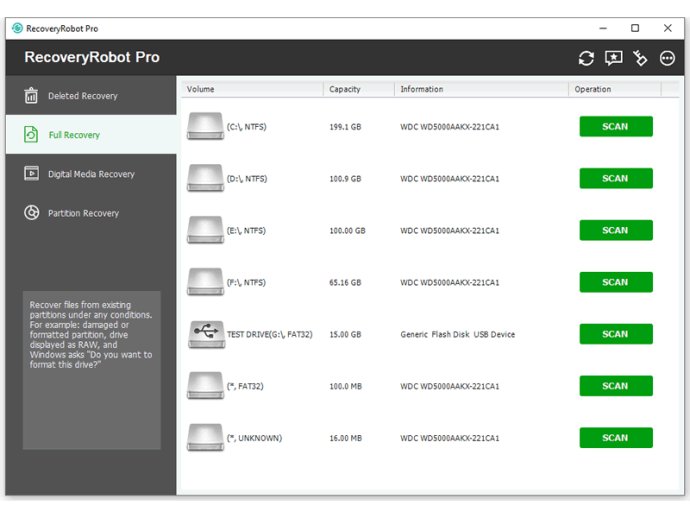 RecoveryRobot Pro is a remarkable data recovery software program that arises with all-purpose features accompanied by a full-featured recovery service to restore your precious data under almost every data loss scenario. It is surprisingly very versatile in terms of its data recovery capabilities which do not require professional skills during the data recovery process.

RecoveryRobot Pro is capable of performing various functions including: recovering accidentally deleted data and files emptied from Recycle Bin and files deleted by using SHIFT+DELETE, recovering data or file from damaged or formatted hard drive, and recovering data or file from the local hard drive or external storage devices like memory stick, memory card, and flash drive.

Furthermore, you can perform data recovery from lost or deleted partitions when hard drive crashed, MBR corrupted, disk repartitioned (fdisk) or overwritten. You can also recover lost image, audio, and video files from hard drives, USB drives, SD cards, Camera, or memory card in a mobile phone as well as recover lost, deleted, corrupted, or formatted photos and video files from various memory card types.

RecoveryRobot Pro has numerous advantages which include a comparatively high data recovery success rate, easy-to-use interface which does not require professional skills, comprehensive reach to various data loss situations, and a very fast scanning speed, which implies that you do not have to wait long. Moreover, it is a DIY process, and you do not require a third party to handle your private data. It's small in size and consumes very little computer's resources.

So how does RecoveryRobot Pro works? The process is quite simple; first, you need to download and install the software on your PC. After installation, scan the drive where the lost data/file is located in your computer, and finally, recover and save the lost data/file in the scan results. Overall, RecoveryRobot Pro provides an excellent user experience and is an excellent choice for anyone who requires data recovery services.
What's New
Version 1.3.0: Add language support for Chinese (Simplified & Traditional), Dutch, French, German, Italian, Polish, Portuguese,Spanish, and Turkish;
Improved data recovery process;
Improved data recovery speed;
Fixed minor bugs