This software provides convenient tools for Microsoft Outlook users, allowing for exporting, importing, and converting files to various formats. It also includes features like eliminating duplicates, processing attachments, extracting addresses, and generating reports and statistics. Easy to use and versatile for improved efficiency.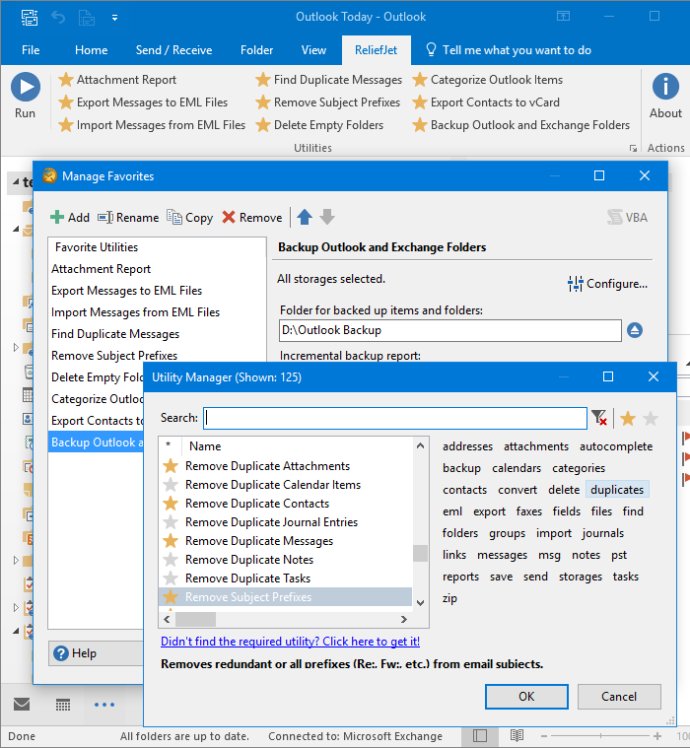 ReliefJet Essentials is a comprehensive software solution designed specifically for Microsoft Outlook users. The tool offers a wide range of utilities that are not only easy to use, but also incredibly useful. It includes Outlook add-in, standalone, and Windows command-line applications, giving users the flexibility to run them manually, automatically, or on a scheduled basis.

One of the standout features of ReliefJet Essentials is its extensive feature set. It allows users to import and export messages using popular EML, MSG, and TXT formats, and provides the ability to convert between MSG and EML formats. Users can also take advantage of PST file export, split, and merge functionality.

In addition to these features, ReliefJet Essentials offers a variety of other useful utilities. Users can import and export Outlook categories, remove, mark, and move duplicates, save, add and remove attachments, and replace them with links or vice versa. The software also has the ability to pack, zip, unpack, and unzip attachments, extract email and internet URL addresses from message headers, personify mailings by creating individual emails for each recipient, assign and remove categories for multiple Outlook items, and much more.

For users looking to boost their productivity, ReliefJet Essentials provides detailed reports and statistics. These reports include information on the most frequently used senders, recipients, subjects, and categories, as well as the largest folders and messages. Users can also get insights into the structure and content of Outlook storages and folders, as well as daily, weekly, and monthly message statistics for a specific period.

With the Outlook add-in, users can easily access the utilities from toolbars and context menus, making it convenient to use these features on the go. The software also integrates seamlessly with Outlook rules, allowing for a smooth workflow when processing incoming and outgoing mail. As a standalone application, ReliefJet Essentials can be launched quickly without the need to keep Outlook running.

Furthermore, the software offers Windows command-line support, enabling users to execute utilities from batch files, scripts, and other automation facilities, including Windows Scheduled Tasks. This adds another layer of convenience and automation to the user's workflow.

Overall, ReliefJet Essentials is an excellent software solution for increasing productivity while working with Microsoft Outlook. Its vast range of utilities, intuitive features, and seamless integration with Outlook make it a valuable tool for any Outlook user looking to streamline their workflow and save time.
What's New
Version 4.22.1: Fixes for EML converters and PST management. Improved compatibility with the latest versions of Microsoft Office 365 and Windows 11.
Version 4.20.1: Five new converters: Outlook2DOCX, PST2DOCX, MSG2DOCX, EML2DOCX, and MBOX2DOCX. EML conversion improved.