This Outlook add-in simplifies navigation through Outlook folders, allowing users to quickly find the folder they need, move, copy or access emails and other items within it. It enables users to seamlessly locate folders related to the opened message, facilitating reliable and effortless navigation.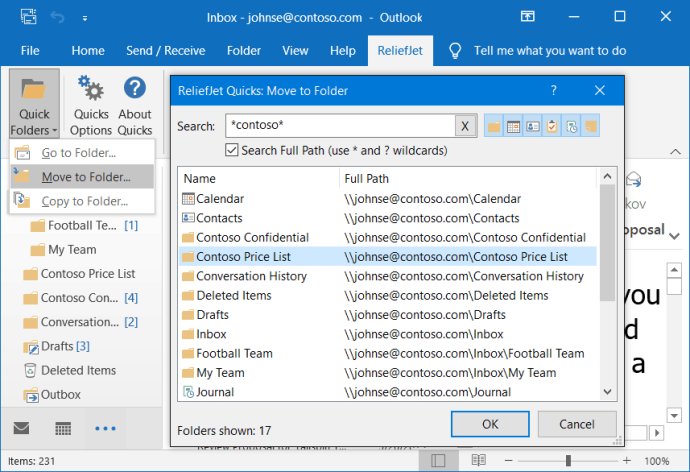 ReliefJet Quick Folders for Outlook is an add-in that simplifies navigation through Microsoft Outlook folders. This software enables you to easily find the folder you need, move or copy your emails and other Outlook items.

The Quick Folders add-in displays a flat list of Outlook folders with a quick search option. It also allows you to select folders of a certain type such as messages, contacts, tasks, calendars, notes, and journals. You can view folders from all accounts connected to the Outlook profile or choose to view only specified folders with subfolders.

The add-in supports Exchange Server Public Folders and can load a list of folders when you start Outlook, enabling you to instantly search for them later. You can search for a folder using a part of the folder name or a wildcard pattern. Additionally, it navigates to the folder containing the opened Outlook item, enabling you to find destination in seconds.

ReliefJet Quick Folders for Outlook also makes it easy to move or copy selected items to the target folder. The software allows users to set keyboard shortcuts for navigating, moving, and copying to a folder.

If you have multiple Outlook accounts with hundreds of folders, ReliefJet Quick Folders for Outlook is the solution you need to quickly find and navigate to a folder. Boost your productivity and automate your folder searches when you navigate, move or copy Outlook items with this all-in-one add-in.
What's New
Version 1.3.2: Compatibility improvements with the latest Windows 10 and Microsoft Office 365 versions.