The Outlook add-in swiftly incorporates text blocks into emails. It allows users to insert greetings, signatures, standard replies, and other frequently used template phrases.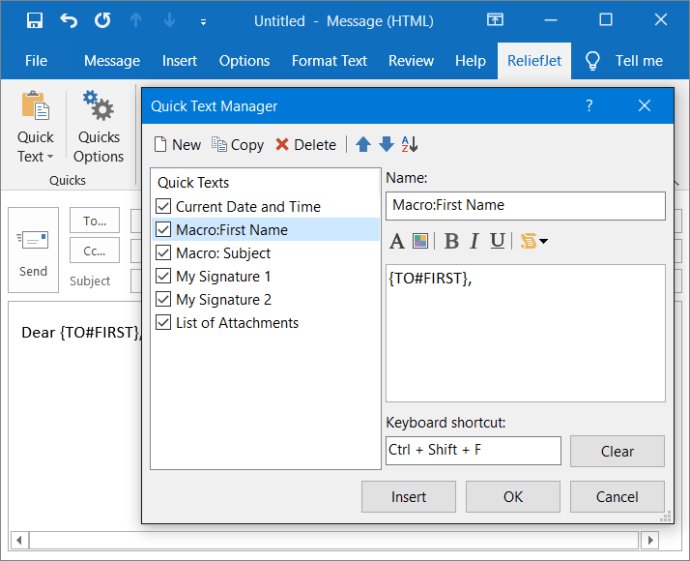 If you're looking for a way to improve your email productivity, look no further than the Quick Text Outlook add-in. With this powerful tool, you can easily insert common text blocks such as greetings and signatures with just two clicks. You can even use keyboard shortcuts to insert snippets with a single touch, making it easier than ever to put together messages quickly and efficiently.

One of the best things about the Quick Text add-in is its ability to help you avoid mistakes. For example, you can add attachment lists to your messages to avoid forgetting about important files and typos. You can also easily insert the current date and time into your emails, saving you time and helping you stay organized.

In addition to these great features, Quick Text also offers familiar formatting options, allowing you to change the font, color, and style of your text. Plus, you can easily create new templates from old ones by copying them, making it simple to reuse your favorite text blocks over and over.

With Quick Text, you have the flexibility to arrange your template list in any order you prefer, and you can add as many templates as you need. Whether you're a support assistant or a sales manager, this powerful add-in will save you countless hours of time by streamlining your email workflow. So why wait? Try Quick Text today and take your email productivity to the next level!
What's New
Version 1.3.1: Compatibility improvements with the latest Windows 10 and Microsoft Office 365 versions.