Enhance your Microsoft Outlook experience with a comprehensive set of advanced tweaks. Optimize daily productivity and streamline workflow by simplifying tasks with ease.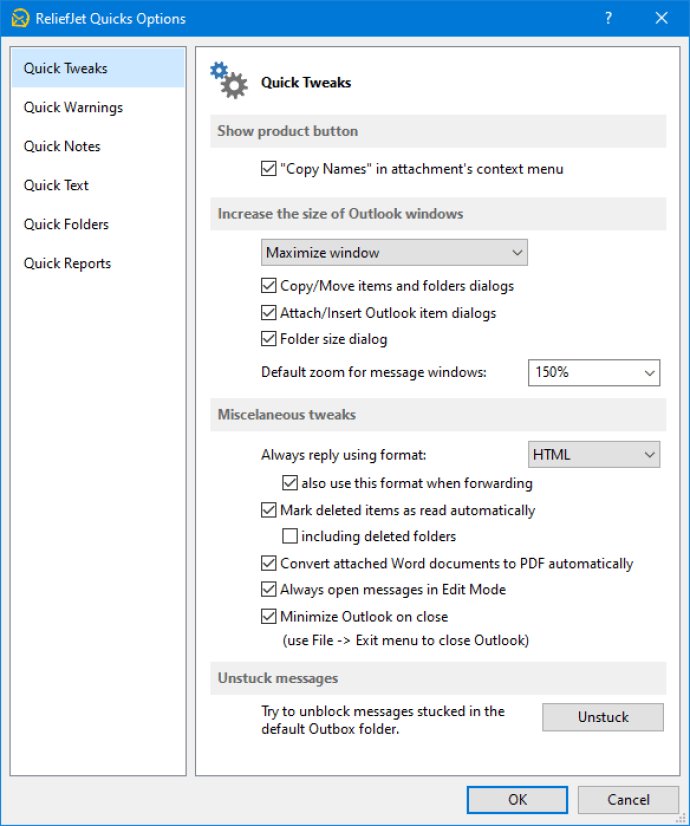 ReliefJet Quick Tweaks is an add-in that includes a set of advanced Outlook tweaks designed to enhance your productivity and simplify your daily work with Microsoft Outlook. With these powerful tools, you can automate the routine tasks that you used to do manually during the day.

This add-in not only helps you save time but also expands your Outlook capabilities by making your interactions with the program much more efficient. In this review, we will explore the indispensable tools of Quick Tweaks and the free ReliefJet Tweaker for Outlook features that help you realize these benefits.

Quick Tweaks provides various tweaks that can help you be more productive such as automatically marking deleted messages as read, minimizing the main Outlook window instead of exiting the program when you click the Close (X) button, copying any attachment names to the clipboard, increasing the size of small Outlook dialog boxes, setting the default zoom for message windows, enforcing the format of reply messages to HTML, Plain Text, or RTF and automatically converting Microsoft Word documents to Adobe PDF. These steps help you speed up your work, and you can select the most beneficial ones that suit your workflow.

To further enhance your experience, Quick Tweaks includes a bonus feature that unlocks messages stuck in your Outbox. Additionally, Outlook Tweaker helps reveal hidden options of Microsoft Outlook, giving you complete control over the program.

Overall, if you're an Outlook user looking for ways to improve your productivity, ReliefJet Quick Tweaks is the program for you. Its automation and optimization features make it an essential tool for anyone who spends a significant amount of time with Outlook. Try Quick Tweaks today and see the difference it can make in streamlining your workday.
What's New
Version 1.3.2: Compatibility improvements with the latest Windows 10 and Microsoft Office 365 versions.