SerialTool is a powerful software that simplifies the management of COM ports. It allows users to effortlessly handle multiple COM ports at the same time, providing unmatched convenience for serial communication requirements. Forget about complex setups and streamline your work with SerialTool.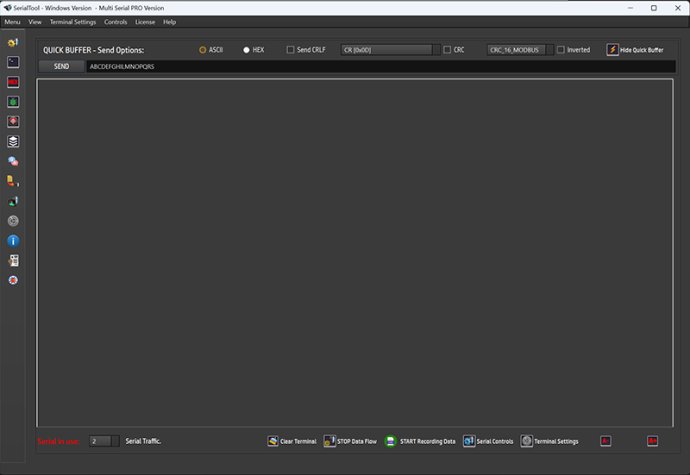 SerialTool is the ultimate software companion that will completely revolutionize your serial communication experience and help you master COM ports. With its intuitive interface, you can seamlessly manage multiple COM ports, streamlining your workflow and saving valuable time. Whether you are a seasoned professional or an Arduino hobbyist, SerialTool offers a range of cutting-edge features that will enhance your serial communication endeavors.

For those venturing into the realm of embedded development and serial communication, SerialTool is a game-changing tool that will ease complexities and enhance productivity. Its user-friendly interface allows you to effortlessly switch between multiple COM ports and devices, eliminating the need for multiple applications or cumbersome configurations. This convenience and efficiency will enable you to focus more on your core development tasks and less on technical intricacies.

One standout feature of SerialTool is its intelligent alarm system, which keeps you well-informed in real-time. Customizable alarms can be set to trigger when specific buffers arrive, ensuring that you receive instant notifications for critical events. This capability is invaluable when monitoring data streams, tracking patterns, or debugging applications, as it enables you to take prompt actions and ensure smooth operation.

Another noteworthy feature is the Autoanswer function, which takes automation to a whole new level. Whether you are an Arduino hobbyist or a professional, this feature offers the perfect solution. By defining triggers for specific buffers, you can effortlessly automate responses, greatly simplifying application testing. This feature is a real time-saver, optimizing efficiency and accuracy in handling repetitive tasks.

For professionals seeking in-depth insights and comprehensive testing capabilities, SerialTool delivers on every front. Its logging functions provide precise and detailed data, allowing you to troubleshoot issues, monitor performance, and optimize applications with ease. With SerialTool by your side, mastering COM ports and revolutionizing your serial communication experience has never been easier.
What's New
Version 1.4.5: Implemented Licensing for PRO Version.
Minor bug fixes
New GUi adjustments
Much more
Version 1.3.0: Implemented Licensing for PRO Version.
Minor bug fixes
New GUi adjustments
Much more