ShDataRescue MSG file converter enables users to convert MSG files to various formats such as PDF, EML, EMLX, MBOX, HTML, AOL, CSV, PST, MHTML, OST, Yahoo, Hotmail, TXT, Zimra, Thunderbird, TXT, DOCX, DOC, DOCM, PNG, TIFF, JPG, and GIF, according to their needs.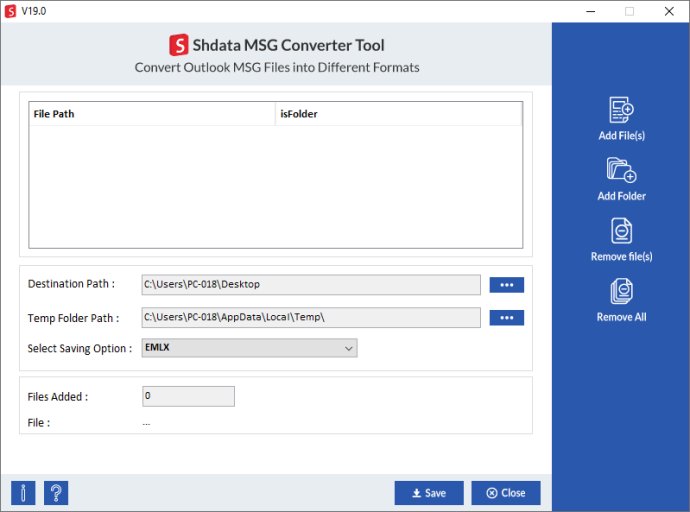 The ShDataRescue MSG converter is an excellent piece of software that is easily accessible via the internet. It allows users to move their MSG files into formats of their choosing. One of the most significant advantages of this utility is that it enables users to save the files at the destination of their choice.

If someone is looking for MSG tools, they should consider using ShDataRescue's utility, as it has several features that users will find helpful. For instance, users can use this MSG migrator to convert files not only from MSG to PST, EMLX, PDF, EML, MSG, MBOX, HTML, MHTML, CSV, AOL, and OST but also to other platforms like Yahoo, Hotmail, Opera, Thunderbird, Zimbra, and others.

The software is versatile and allows users to save or convert their MSG data files into document formats such as DOC, TXT, DOCX, DOCM, PNG, TIFF, JPG, and GIF. The software is compatible with all available versions of the Windows Operating System and is easy to use.

ShDataRescue's MSG to PDF tool allows users to transfer and save files to their preferred file format smoothly. The software has a user-friendly GUI that even novice users can manage with ease. Users can save and transfer data from one format to another using the software, and they can preview their MSG data files before making the conversion.

Users can easily convert 25 emails per email account with the freeware utility software, which provides batch file conversion options to convert MSG to PST files in batches. The software is also very secure and safe for MSG file conversion, which means that users can rest assured their data is safe. Additionally, the software provides its free demo version, allowing users to explore the features before making a purchase.

In summary, ShDataRescue's MSG converter is an excellent software utility. It is user-friendly, versatile, and secure, making it well-suited for both novice and experienced users. With its extensive features, users can easily convert their MSG files to other formats without worrying about losing data.
What's New
Version 20.0: Remove Bugs, Easy GUI, More Accurate, Updated Version