This software reads aloud any epub, pdf or txt book and creates a bookmark to return to the last read position. Users can listen to ebooks and book notes from free Internet libraries suggested in the help menu.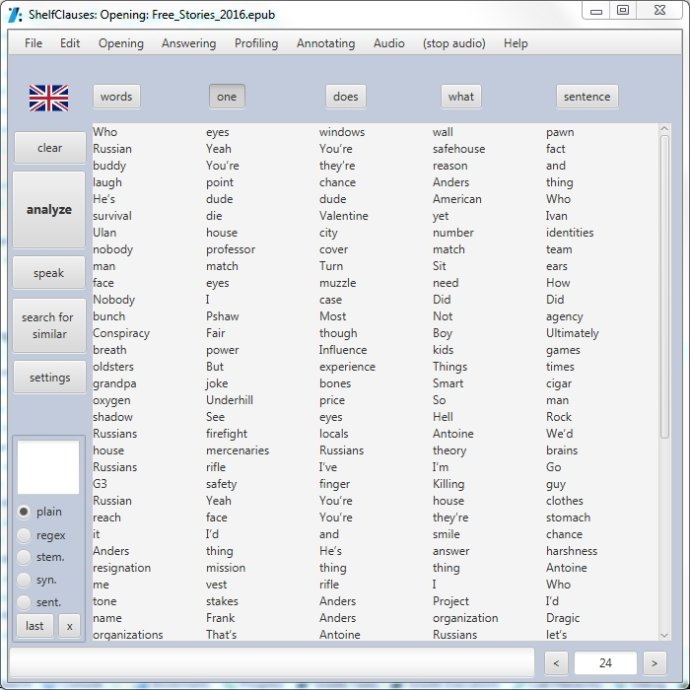 ShelfClauses is an efficient software that is designed to cater to your reading needs. It allows you to listen to ebooks, book notes and has an impressive text-to-speech feature that reads loud any text file of epub, pdf, or txt formats. A reading bookmark is automatically set to resume reading from the exact point where you left off earlier.

With the help menu, you can access one of the many free Internet libraries to select a book of your interest that you would like to hear. Additionally, the software allows the audio loop over your text and provides easy-to-use options to adjust the voice in various ways from the audio settings.

ShelfClauses comes with a powerful search feature that helps you focus on the important passages of the text. It analyzes the language naturally to understand what the text deals with and empowers you to answer simple questions related to the content.

Furthermore, the software provides you with an effortless means to store your notes next to a file. It helps you keep track of who does what and easily navigate within the text.

The text-to-speech engine offers crystal clear voices of high quality. The program integrates with your favorite external application and allows you to open the file by menu external. A basic word by word translation is integrated to get an idea of foreign language texts. Sentiment analysis helps you overview the plot, and natural language processing supports English, French, German, Italian, Portuguese, Spanish, Dutch, Swedish, and Danish files.

The software is available for Windows 7, 8 or 10, and is portable in design, allowing you to store it anywhere you want on your computer. Overall, ShelfClauses is a fantastic software for avid readers, providing you with an intuitive reading experience packed with useful features.
What's New
Version 1.11: first release