SoftRM Assistant is an intuitive personal assistant software that connects your notes, to-do lists, and finance management through its Activity feature. It enables you to record your income and expenses, take notes, and manage tasks with ease.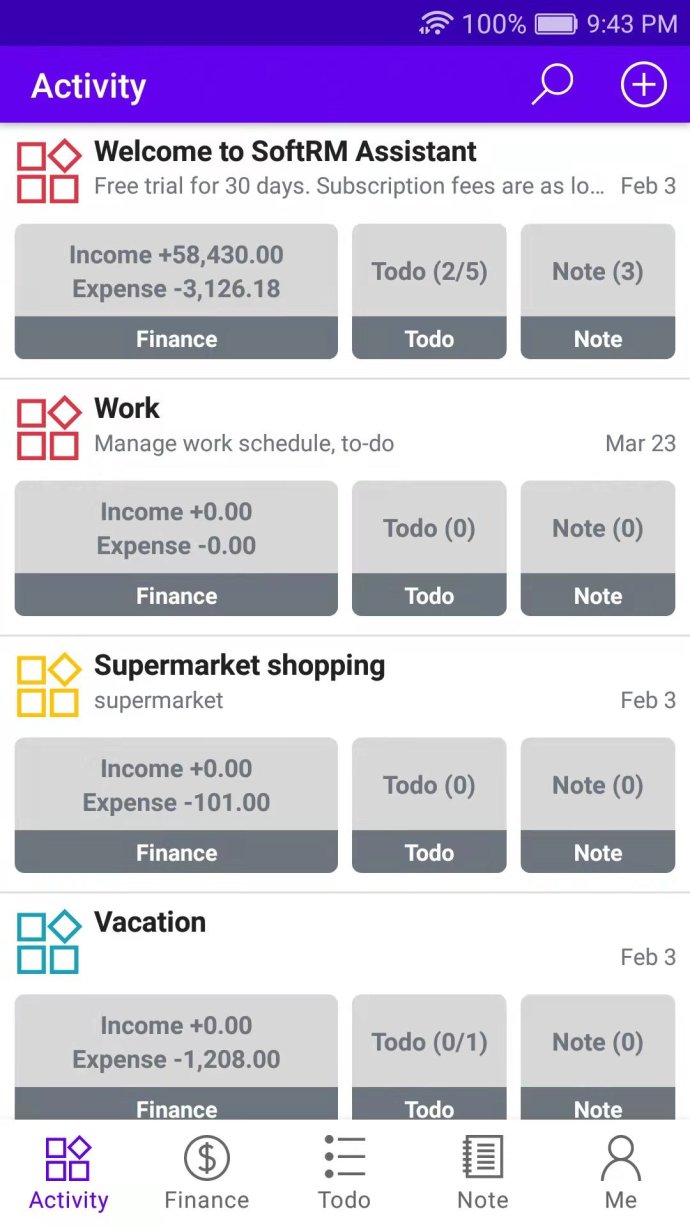 SoftRM Assistant for Android is an intuitive personal assistant that seamlessly integrates Todo, Note, and Finance functionalities through Activity management. With SoftRM Assistant, users can easily record financial transactions, take notes, and manage their to-do tasks from a central location.

The app provides an overview of ongoing tasks, along with comprehensive information on total income and expenses. Users can also review notes associated with specific activities, and customize conditions to track expenses over specific time periods.

SoftRM Assistant's features include Activity-centered data management, with all the app's data stored locally, eliminating the need for an internet connection. Users can record income and expense records, as well as combine different conditions to create personalized income and expense statistics.

The app even allows users to export financial records and statistics to Excel, and write multiple notes for each Activity for better organization. With to-do management capabilities and the ability to set reminders, users can stay on top of their daily tasks easily.

SoftRM Assistant also offers backup and restore functionality, ensuring that users never lose their valuable data. Overall, SoftRM Assistant is an excellent choice for users looking for a versatile and user-friendly personal assistant app that can handle a variety of tasks.
What's New
Version 3.2.7: Fixed known issues.