Songtrip generates playlists matching your current mood or selected song with easy listening options. Choose and enjoy your music with just a few clicks.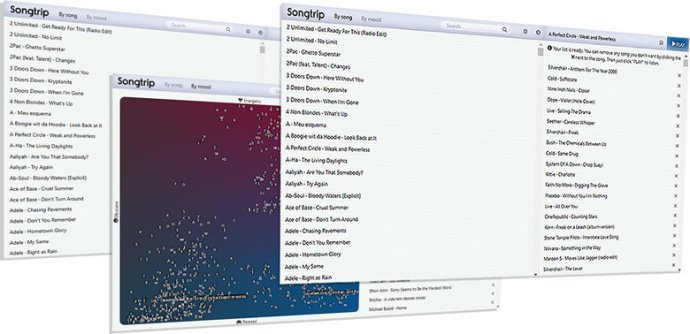 If you're someone who doesn't want to spend money on a music streaming service, Songtrip could be the solution for you. If you keep your music collection on your computer, you might want to consider Songtrip. It's a software that can build your playlist automatically, saving you time and effort.

It's easy to get tired of listening to the same set of songs over and over again, especially if they're not exactly what you're in the mood for. Fortunately, Songtrip can assist in creating a great mix by assembling a playlist of related songs in seconds. This software allows you to keep your vibe going, which is important to continue enjoying your music.

All you need to do is point to one song and let Songtrip do the work. If you don't know which song you want to listen to, Songtrip can help you find the perfect playlist for your mood with just a few clicks. You'll have a playlist that is perfectly in tune with your current feelings in no time.

Overall, Songtrip is a convenient software that helps save both time and money while providing you with a tailored playlist that can improve your music experience.
What's New
Version 1.0.2: Visual improved.
Version 1.0.0: Initial release.