This encryption software provides strong security algorithms like AES, RC6, Serpent, Blowfish, Twofish, and GOST ciphers to encrypt sensitive files or folders. It guarantees the protection and privacy of your data, ensuring confidentiality and reliability.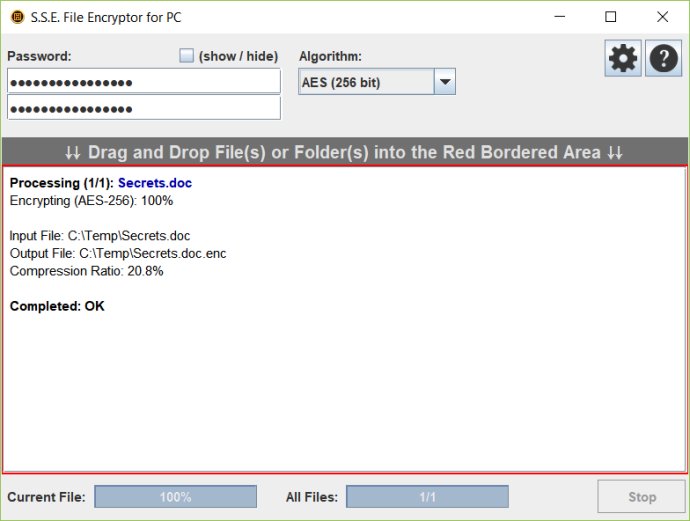 If you're in need of a reliable and efficient tool to encrypt and decrypt your confidential files, look no further than this software. Its user-friendly interface allows you to securely encrypt your private files or entire folders with just a few clicks. Simply drag and drop the selected file(s) or folder(s) into the application window, and the encryption/decryption process will be handled automatically.

One of the standout features of this software is its utilization of strong encryption algorithms. It supports a wide range of ciphers, including AES (Rijndael) 256bit, RC6 256bit, Serpent 256bit, Blowfish 448bit, Twofish 256bit, GOST 256bit, Threefish 1024bit, and SHACAL-2 512bit (for the Pro Version). Rest assured that your files and folders will remain well protected.

The software offers two versions: the GUI version and the Command Line version. Both versions are cross-platform compatible, working seamlessly on Windows, Linux, Mac OS X, and more. Additionally, it is even compatible with Secret Space Encryptor for Android, making it an incredibly versatile tool for encrypting and securing your files and documents.

In conclusion, this software is an excellent choice for individuals seeking to keep their files secure and private. Its intuitive interface, robust encryption algorithms, and compatibility with various platforms make it a reliable and convenient tool for anyone wishing to safeguard their sensitive information.
What's New
Version 15.0.6: - Help update;
Version 15.0.5: - Performance optimization;