This software enables the creation, publishing, and effortless management of high-quality websites. It features an advanced image editing, archiving, and organization tool that permits categorization through keywords, limitless descriptions, and rapid search.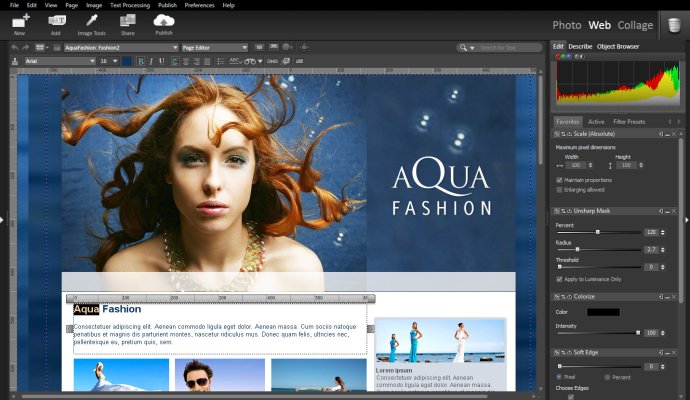 This software is a great choice for anyone who wants to create, publish and maintain professional-looking websites quickly and easily. It doesn't require any knowledge of HTML, which makes it accessible to a wide range of users.

One of the standout features of this software is its built-in site management, which tracks changes and publishes new pages and other content changes via FTP. This makes it easy to keep your website up-to-date without having to do a lot of manual work.

Another impressive feature is the ability to paste, crop and optimize images directly on the page layout, allowing you to see the final appearance before publishing. You can also use sophisticated image editing tools to apply effects to images and texts while editing the page. The best part? Even with special effects in place, any text remains fully editable.

The software also boasts an intuitive user interface that allows you to freely position objects anywhere on a page using your mouse. You can easily copy settings, including image tools, text effects, styles and links between objects, making it simple to maintain a consistent appearance throughout your site.

Additionally, the ergonomical search in the menu bar is always ready to quickly find images on your site and in the image archive, using a multitude of criteria. Original images are maintained unchanged, so that edits can be rolled back, even individually, at any time, and the same image can be reused in various sizes on different pages and sites.

Finally, personalized watermarks can combine graphics with text, be rotated, aligned, or tiled as needed, and will discourage unauthorized use. This is an excellent feature for anyone concerned about the unauthorized use of their digital assets.

Overall, this software is a fantastic option for anyone who wants to create professional-looking websites quickly and easily. It offers an impressive range of features that are designed to make web design as painless as possible, and the intuitive user interface makes it simple to use for anyone, no matter what their level of technical expertise.
What's New
Version 4.2.71: You can find a list of recent changes on our website: http://www.studioline.net/version-history-web/