SuperSecret is a secure storage software that ensures all your usernames and passwords are safe. With SuperSecret, you'll only need one password to remember.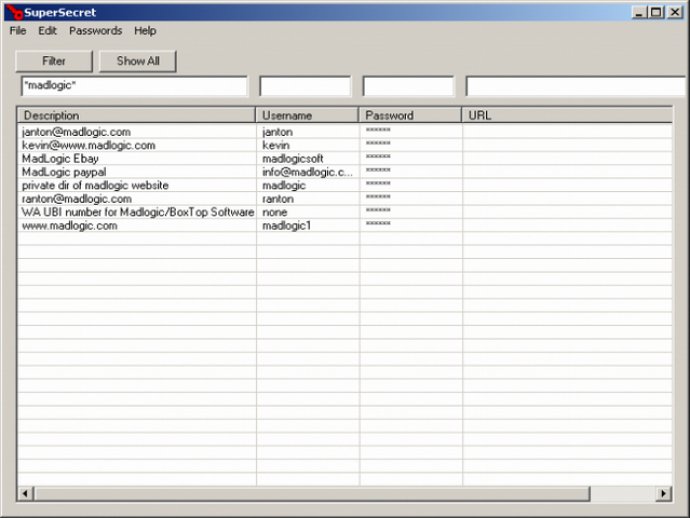 SuperSecret is a software that offers secure and encrypted storage for all of your login and password information. With this software, you only need to remember one password for all your accounts. Moreover, SuperSecret is designed to be used by multiple users on the same computer with different login names, ensuring your passwords are kept private, even if you share a computer with others at home or work.

This software requires you to log in only once, and all other account and password information is stored securely in an encrypted format on your computer, accessible only with your one and only password. SuperSecret allows each family member or coworker to have their own storage area for passwords, ensuring that your confidential information stays safe, even if unauthorized users try to access your computer.

With SuperSecret, you can store any type of secret information, including the PIN numbers to your ATM/debit card, personal and business email addresses, online banking login and password, and more. The software allows you to double-click on an empty entry to add a new login and password, or edit an existing one. You can easily select the entry you need the password for, and the password will be displayed. Deselecting the entry hides the password again, keeping you safe from anyone who may look over your shoulder.

SuperSecret is quick and easy to use, and you can keep it open to save time by minimizing it to the taskbar for easy access. This software runs on various Windows operating systems, including Windows 95, Windows 98, Windows ME, Windows NT, Windows 2000, and Windows XP. Overall, SuperSecret is an excellent software for anyone who wants to store their passwords and other confidential information safely and securely.
What's New
Version 2.0: N/A