This software offers inplace editing with multiple editor types, card sorting and filtering, a style controller for easy appearance customization, and item hiding based on criteria. It also supports TPicture image, memo and memo fields.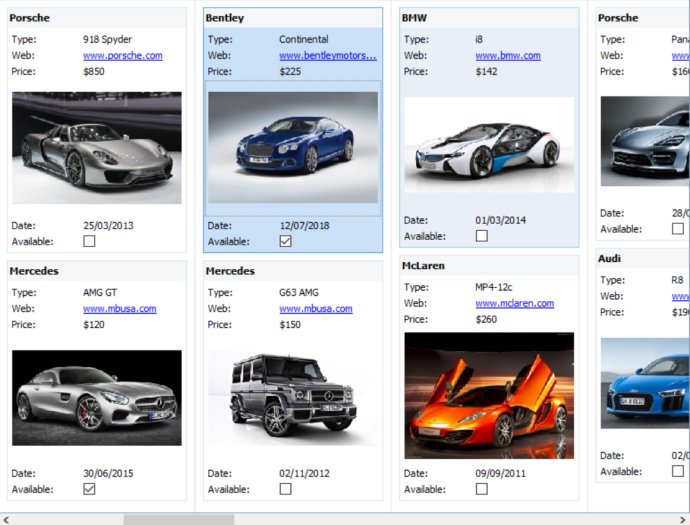 I recently tried out a software tool that offers some impressive features for managing card appearance and functionality. One of the standout aspects of this tool is the extensive control it affords over the appearance of each card. Whether you prefer to keep things simple or want to get into the details, you can customize your card display to your heart's content.

Another useful feature is the ability to edit cards in place using different types of in-place editors. Whether you're entering data or making changes to existing cards, this helps you get the job done more easily and efficiently.

When it comes to organizing your cards, you'll appreciate the sorting and filtering options that are available. This enables you to quickly find the information you need, without having to sift through irrelevant items first.

If you're looking for an interface that's easy to set up and manage, then the card style controller will be just what you need. This allows you to quickly and easily adjust the appearance of your cards to suit your preferences.

One of the standout features of this software tool is its ability to automatically hide items based on different criteria. This can be incredibly helpful when you're dealing with large sets of data and need to cut through the clutter to find what you're looking for.

Other notable features include support for TPicture images, as well as memo and memo fields. There's also a wide range of card appearance control options, including support for normal, selected, hovered, and editing states.

Whether you're looking for a software tool that's DB-aware or non-DB aware, this one has you covered. And if you prefer to scroll through your card list vertically or horizontally, you can easily switch between the two.

Overall, I would highly recommend this software tool for anyone looking to manage cards with a high degree of flexibility and control. The customization options are extensive, and the interface is intuitive and easy to use.
What's New
Version 2.1.2.0: New : Use of FindField in HTML template handling instead of FieldByName