This software allows you to create different shapes such as rectangles, circles, and squares with customizable rotation angles. You can add clipped or non-clipped HTML formatted text and choose from solid color, gradient, and bitmap fill options. Customize the pen color, style, and bevel on the shape border.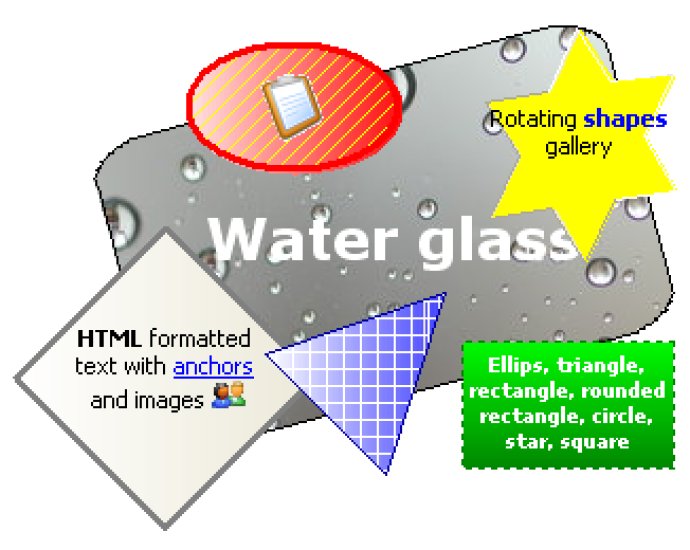 If you're looking for a powerful software that can help you create amazing designs and graphics, look no further than this amazing program. With a range of features and tools, you can easily create different shapes such as rectangle, circle, round rectangle, square, round square, ellips, triangle, star, and more.

One of the standout features of this software is the ability to easily adjust the rotation angle of your shapes to create truly unique designs. Whether you're working on a logo, a website, or a print project, this feature can really help you take your designs to the next level.

Another great feature is the ability to clip or non-clip HTML formatted text within your shapes. This makes it easy to create custom text and logos that can be easily integrated into your projects.

Of course, no software would be complete without a range of different fill and border options. Whether you're looking for solid color, solid color with brush style, gradient or bitmap fill of shape, you'll find everything you need in this program. Additionally, you can easily adjust the pen color & style of shape border to create truly eye-catching designs.

Finally, with the bevel on shape feature, you can easily give your shapes a professional, polished look that really sets them apart. With all of these amazing features, it's no wonder that this software is a favorite among designers and creatives of all kinds.
What's New
Version 1.1.2.0: New: RAD Studio XE2 support