TextSeek is a comprehensive file search software that enables simultaneous filename and content searches. It also supports multiple file formats, such as PDF, Word, Excel, and Powerpoint, and is ideal for use by professionals.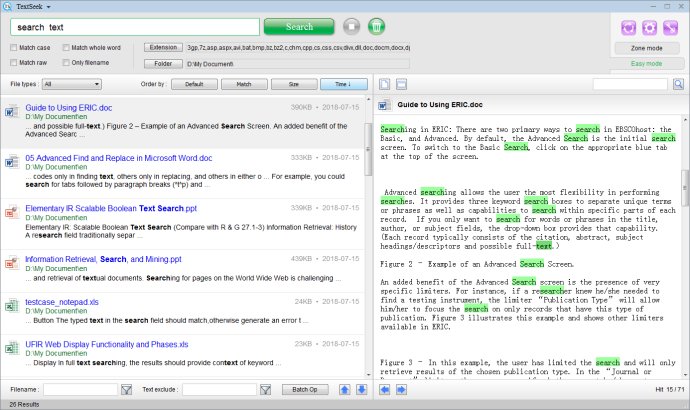 TextSeek is a professional file search tool that impresses users with its versatile features. It stands out among other file search tools like Everything and Listary as it can search file names and content simultaneously in various formats, including PDF, Word, Excel, Powerpoint, RTF, and more.

One of TextSeek's features is its simple yet effective minimalist design. The search box and results section operate smoothly, similar to that of Google's interface, resulting in a seamless experience. Users can preview the content with highlighted keywords and quickly browse through the search results with the ctrl+arrow shortcut keys.

TextSeek provides two search modes, Easy and Zone, that cater to different types of searches. The Easy search mode allows users to search directly without indexing, while the Zone mode indexes specific directories, optimizing the speed of the search.

The software is cross-platform and multi-language, supporting Windows and Mac OS systems and all languages using UNICODE. The user interface is available in multiple languages, including Chinese, English, Japanese, Korean, French, German, Arabic, among others.

TextSeek offers several search options for efficient usage, resulting in customized and filtered outcomes that match users' specific needs. Users can filter the results by document type, file name or content, and sort them by file size, modification time, or relevance. The software uses full-text search technology, making it capable of case matching, whole word matching, and original query matching.

A great benefit of TextSeek is its batch processing feature, allowing users to copy, cut, and delete all search result files in batch. Users can also export all search result information to a csv file, making it convenient to manage their data.

Overall, TextSeek is an excellent investment for file, document, and content search with numerous features tailored to meet the various demands of users. This software product minimizes search time and enhances productivity, making it a great software tool to consider for file-related tasks.
What's New
Version 2.18.3760: N/A
Version 2.18.3732: N/A