Total HTML Converter allows batch conversion of HTML to PDF, DOC, XLS, and more. It supports user interface and command line handling with many conversion options like FitToPage and Footer & Header support. ODT conversion is also available.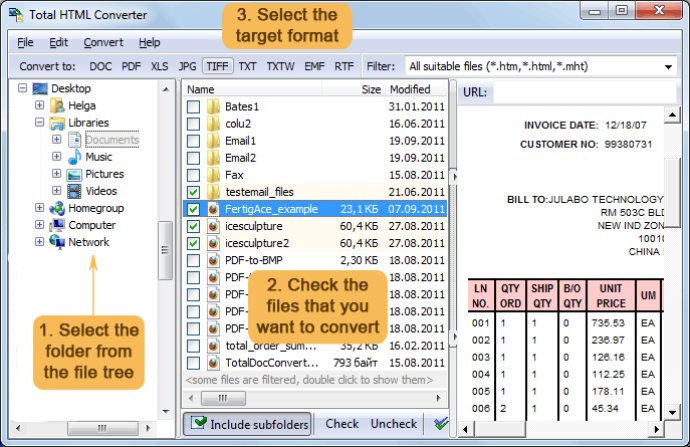 Total HTML Converter is an amazing software tool that can convert HTML files to various formats, such as PDF, DOC, XLS, JPEG, TIFF, EMF, TXT, RTF, TXTW, and ODT. With this software, you can easily convert all kinds of HTML files, including MHT and HTM, in batch.

The user interface of the Total HTML Converter is well-thought, and the software can also be handled via command line. It features lots of conversion options, such as the Fit HTML Width To PDF-Page-Size option, which is useful when you print HTML tables, or the Footer & Header support, which allows you to add a page counter or your logo or any note to the final document.

Total HTML Converter easily recognizes all HTML tags, including page break control with CSS styles (CSS 1, 2). It can combine several HTML files in one multi-page PDF and add a digital signature. Moreover, the latest version of the software supports HTML to ODT conversion for OpenOffice users.

One of the best things about the Total HTML Converter is that it is very powerful, yet still very easy-to-use. All the settings are done in the step-by-step wizard. A server version with ActiveX is available for advanced users, making it suitable for both advanced users and beginners.

Download your copy of Total HTML Converter for free and try it for the first 30 days. You won't be disappointed!
What's New
Version 3.1: Total HTML Converter now can add image watermarks (i.e. your logo) to each page of the output file.