This software creates an exact copy of a USB drive, replicating all components including hidden partitions, MBR, boot records, and partition tables, down to the smallest detail.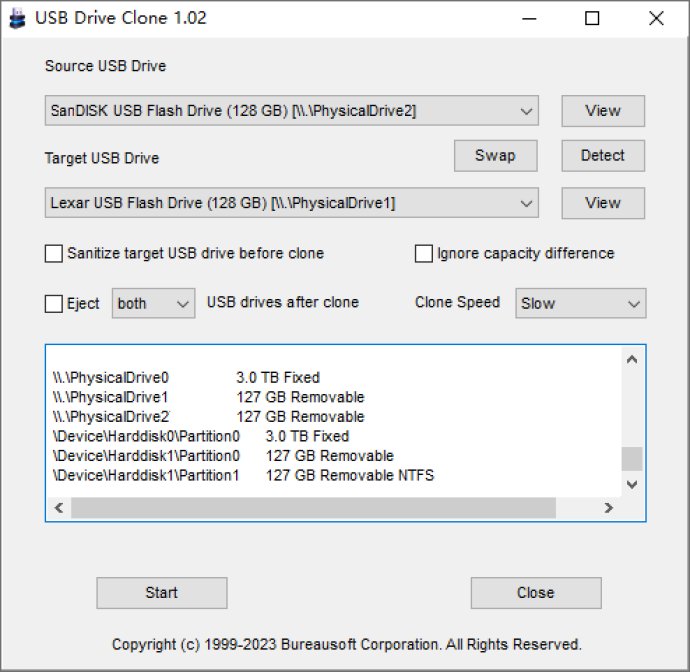 If you're looking to copy files from one USB drive to another using the drag-and-drop method in Windows, there are many tools you can use. But if you want to create an exact, sector-by-sector copy of a USB drive, including MBR, boot records, partition tables, and even hidden partitions, you'll need special software. That's where USB Drive Clone comes in.

This software can clone any USB drive with more than 293 partition types, regardless of the file system or operating system. It can even detect and attempt to recover data from bad sectors, making it ideal for creating an accurate copy of a damaged USB drive.

USB Drive Clone supports USB memory sticks, flash drives, pen drives, thumb drives, and portable USB drives. Additionally, it performs synchronous duplication rather than asynchronous duplication, meaning that no image file of the source USB drive is created during the data duplication process.

One unique feature of USB Drive Clone is its safe removal function. This allows you to eject one or both USB drives after the duplication process completes, ensuring that you can safely unplug the USB drives from your host computer without any damage.

Finally, USB Drive Clone is capable of cloning bootable USB drives without losing their bootable capability. This makes it ideal for creating backup copies of vital system files or creating bootable drives for emergency situations.

Overall, USB Drive Clone is a powerful and versatile tool for anyone who needs to create an exact copy of a USB drive. With its support for a wide range of partition types and file systems, as well as its ability to detect and recover from bad sectors, this software is a must-have for data recovery and backup purposes.
What's New
Version 1.02: Show physical drivce name other than drive letter. Add a View button to display the hardware information of USB drive. Eject USB drive after clone operation