UTFCast Professional is a Windows software that allows you to effortlessly convert batches of text files to any UTF encoding including UTF-8, UTF-16, and UTF-32. Furthermore, it can preserve the original directory structure during the conversion process.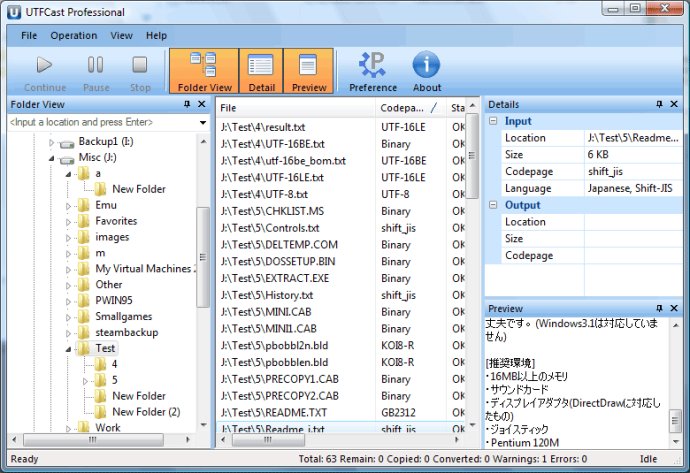 UTFCast Professional is an excellent software tool that can help you to quickly and easily convert all your text files to UTF encoding. You can do this by simply clicking your mouse. This software has the ability to convert text files in three different types of UTF encoding including UTF-8, UTF-16, and UTF-32.

One of the best features of UTFCast Professional is that it can batch convert a whole directory full of text files to an output directory while at the same time maintaining the file structure of the original files. Additionally, UTFCast Professional can perform the conversion even if your text files have a different extension.

The application is designed to automatically detect text files and convert them. It can recognize over 30 different codepages so you don't have to do this manually. This means that every text file will automatically receive the correct codepage treatment.

UTFCast Professional is fast, even when you are handling a large number of files or files that are quite large. UTFCast Professional can detect 100,000 files sized at about 65GB in about 200 seconds on a mid-range computer. It can also handle files that are much larger, for example, a file sized at around 290MB can be converted in just 7 seconds. This remarkable speed means that UTFCast Professional can detect 400-500 files in one second or convert over 40MB of files.

There is no limit to the file size that UTFCast Professional can handle. This software tool is designed to handle massive files, even files that are larger than 1GB, or even 1TB.

UTFCast Professional is easy to use. You only need to click once on a menu item, and the software will convert every text file in your folder. It will output the conversion results to another folder, and keep your folder structure intact. It really doesn't get easier than this!
What's New
Version 3.4.7767: Maintenance update: Updated with latest platform libraries to support the latest Windows 10.