This software is a solution for Windows developers looking to add video/audio playback to their business applications. It supports various file types and enables adjustment of audio pitch and tempo. Ideal for professional use.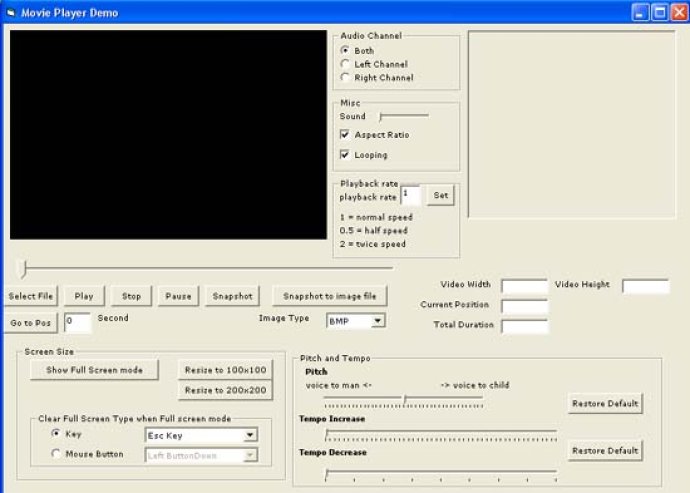 If you're a professional Windows developer in need of video and audio playback functionality in your business application, you should definitely check out this software. It supports a wide range of file formats including DIVX AVI, MP4, MOV, Avi, Wmv, RM, MPEG-1, ASF, WAV, MP3, and MID. As an added bonus, it even allows you to count the number of audio tracks and select a specific one to play back in DIVX AVI, MP4, MOV, and M4V files.

The software also includes a number of color adjustment options such as contrast, brightness, invert color, saturate, hue, and lightness. Additionally, it includes a mov decoder so you don't need to download any third-party codec packs (some of which may be illegal).

One interesting feature of the software is that it allows you to change the audio pitch to male, female or child voices as well as change the audio tempo to speed up or slow down a song. You can also change the playback rate for wmv or asf files.

Other features include the ability to take snapshots of BMP, JPG, GIF, TIF, and PNG from movie files, user-defined display area, custom playback rate, audio channel selection, full-screen mode, control over sound volume, aspect ratio control, playback events, and video/audio file information.

The software includes sample code for Access, c# 2015, vb.net 2015, Delphi, VB, VB.Net, VC, and VFP Media Player. It's also compatible with any programming language that supports ActiveX, and it comes with royalty-free distribution of the OCX file.

One minor issue users have reported is that when switching from full-screen mode to normal mode in Window 7 64 bit, the software will briefly display a black screen.
What's New
Version 10.0: N/A