This software generates ID cards and gate passes for visitors in various industries. It offers pre-made templates, split into three groups - visitor/gate pass, user-specific, and miscellaneous.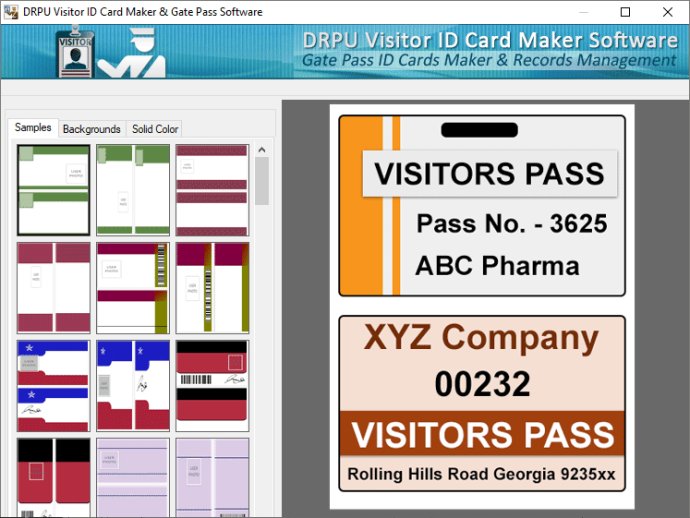 The Visitor Id gate pass maker Software is a powerful tool that enables organizations to create high-quality visiting cards and gate passes for their visitors. With its user-friendly interface, the software provides a database facility that maintains records of visitors and helps in searching for records with ease. Users can easily design one side of the visitor ID card and copy it to the other side, thereby considerably reducing design time.

The software supports inbuilt templates, as well as user-defined templates, making it easy for users to create custom designs. Using its export feature, you can export visitors ID cards as images (png, jpeg, etc.) or as PDF files. Notably, you can also export created database records in excel file format, ensuring seamless record-keeping.

The camera feature in the software allows you to take a photo of the visitor and crop it according to your needs. Additionally, users can add various objects such as text, watermarks, shapes, images, and symbols while making visitor ID cards. The software also supports text editing and image editing, giving you more control over the design process.

Users can also add various barcodes and change their properties easily with a double click on the view properties button provided in the software. With card properties, users can change general properties like card shape, size, and name, background format such as solid color and gradient, image properties, and card border.

Designing and creating visitor ID cards are easy with this software, and it does not require any expert support. The software provides an option to take a print of created visitor ID cards with flexible print settings. Additionally, with batch processing series, the software enables the generation of multiple visitor ID cards with the help of an MS-Excel and text file.

The latest version of the software comes with several new features, including the option to specify color and background settings such as solid color, gradient, image, and style settings. It also provides a cropping option to crop a single image or multiple images for visitor ID cards. Users can now send designed ID cards via email settings, and the software provides batch processing series for generating multiple visitor ID cards.

In summary, if you're looking for an easy-to-use software that enables you to create high-quality visitor ID cards and gate passes, the Visitor Id gate pass maker Software is an excellent choice.
What's New
Version 8.5.3.2: Added Support for Latest Windows 10 OS Updates.
Added Support for High DPI resolutions Compatibility.
Added new Barcode Technologies.
Added additional Batch Processing Features to import Data from Excel Sheets.