GSTECH Winrar password remover software 2019 helps recover Rar file passwords quickly and accurately without any hassle. The software deeply scans the exact password and ensures successful password recovery.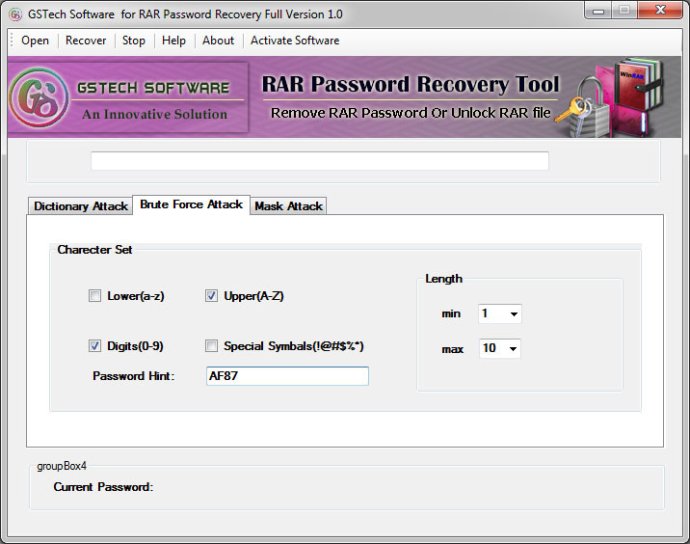 The GSTECH winrar file password remover software 2019 is an excellent tool with many useful features that help users recover lost or forgotten passwords from winrar files. It is common for winrar users to forget their passwords or lose them, and in such situations, they need a third-party tool to unlock their files quickly. GSTECH Company has renovated its rar file password recovery tool for 2019 in a very refined way, ensuring that users can get full-satisfaction with the software's potentiality.

This hi-tech software can crack rar file passwords using various methods such as BRUTE FORCE ATTACK, MASK ATTACK, and DICTIONARY ATTACK. These methods are excellent without any hurdles, and users can rely on them to recover lost passwords by choosing one of them.

The software comes with excellent features such as a scanning option that is impressive and fantastic, which can clearly read a single bit of lost or forgotten password values. It also has effective methods to crack lost file passwords by applying anyone to reveal exact password strength, such as Brute force attack, mask attack, dictionary attack.

Another standout feature of the GSTECH winrar file password remover software is its good reader tool, which helps users find out the exact password strength like Numeric, Alpha-numeric, symbolic, etc. The software also provides users with a demo part which is as familiar with the full version software except that it will only show the first three characters of the password strength.

In conclusion, the full version of this software is available to crack rar files entirely at no cost, making it an excellent choice for winrar users who have lost or forgotten their passwords. With its top-notch features and reliable password recovery methods, the GSTECH winrar file password remover software 2019 is a software worthy of recommendation.
What's New
Version 5.0: New Release GSTECH Winrar file password remover software 2019