Wise Folder Hider Pro is an efficient and user-friendly software that allows users to quickly and securely hide and password-protect private files and folders from unauthorized access. It ensures the security of your sensitive data and eliminates the risk of surveillance effortlessly.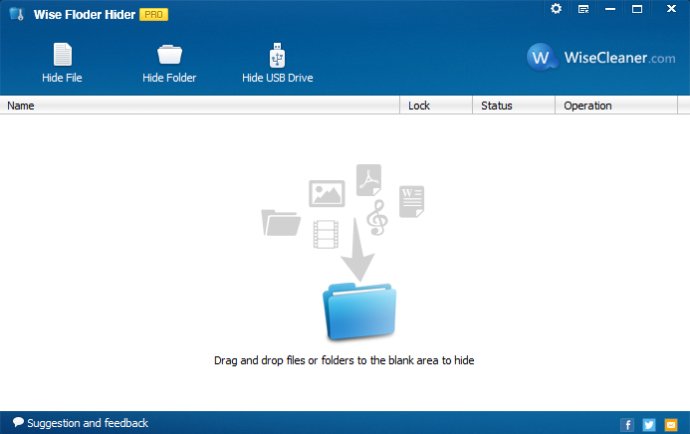 Wise Folder Hider Pro is a software that is designed to provide enhanced security for your folders and files on your Windows PC. With this software, you can password-protect your folders and files from being seen, read, or modified by unauthorized people. This software is ideal for those who are concerned about the security of their personal data.

Wise Folder Hider Pro's main feature is its ability to block unauthorized access to your private files or folders on local partitions or removable devices, even when they are found by a disk tool. This added layer of security ensures that your files and folders are always safe from prying eyes.

In addition to its great features, Wise Folder Hider Pro is also very convenient to use. You can directly hide a file, folder, or USB only by right-clicking if you don't want to start up the program. This makes it easy to use and accessible for everyone.

Moreover, Wise Folder Hider Pro is perfectly compatible with Windows 8 & 8.1 and other Windows operating systems, from Windows XP and up. This means that no matter what type of computer you own, a desktop or a laptop, you can use this software to protect your personal data.

Last but not least, Wise Folder Hider Pro supports more than 30 languages worldwide. This makes it accessible and user-friendly for people all over the world.

Overall, Wise Folder Hider Pro is a great software that provides enhanced security for your personal data. Its convenient features, compatibility with different Windows operating systems, and language support make it an ideal software for those who want to protect their folders and files from any unauthorized access.
What's New
Version 3.28: 1. Added Windows 10 compatibility.
2. Improved skip UAC functionality.
3. Minor GUI Improvements.