This website builder and CMS is ideal for creating uncomplicated blogs and websites. It prioritizes minimalism, security, speed, and simplicity, and is open source with only five necessary files.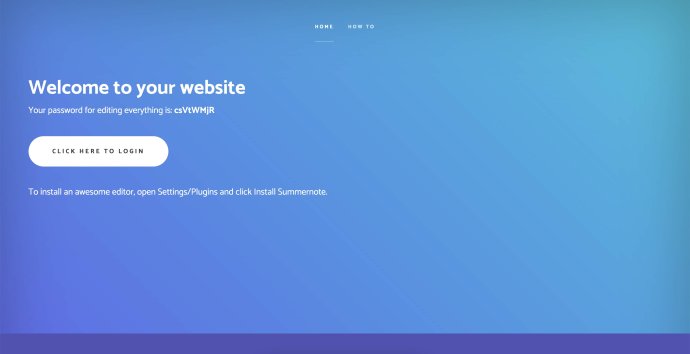 WonderCMS is an outstanding website builder and a lightweight, flat-file CMS that is incredibly user-friendly. Not only is it completely free, but it's also incredibly easy to install by simply unzipping and uploading to your server. Since its foundation in 2008 and open sourcing in 2010, WonderCMS has been frequently updated and improved upon, making it one of the most reliable platforms available.

The platform offers a range of excellent features, including GDPR readiness, out-of-the-box https support, and simplified coding, making it extraordinarily a secure and reliable platform. With just five files, WonderCMS is unbelievably small in size, and it offers one-click updates, click-and-edit functionality, and it requires no configuration, making it hassle-free to get started with building your website.

WonderCMS allows users to make their website their own, thanks to its customizable login URL and homepage. In addition to that, it offers custom password protection, highlighted current page, and mobile responsive awareness, making designing and managing your website effortless. The platform is lightweight, running on just a few hundred lines of code, making it easily themable.

As an ideal solution for website builders seeking a better SEO support, WonderCMS offers improved titles, keywords, and descriptions for each page, making it easier for search engines to identify and rank pages. It also offers a seamless 404 page, and the page deleting feature is easier now.

WonderCMS runs on PHP, jQuery, HTML, CSS, and a flat JSON database, making it work perfectly fine on Apache, NGINX, and IIS. It requires PHP version 5.5 or above, and support for .htaccess is mandatory. NGINX demands editing the server configuration.

Finally, WonderCMS has a WYSIWYG (What You See Is What You Get) editor, and the Summernote is also available as a standalone plugin, allowing users to create visually appealing and dynamic websites with minimal coding experience.

Overall, WonderCMS is an excellent solution for anyone looking for a clear, efficient, and secure website builder and CMS. It has all the features you need to maintain a functional and visually appealing website.
What's New
Version 3.4.2: - New: option in Settings - Security for enabling/disabling redirect to login page or last page, after logging out
- New: in Settings - Security, now clearly visible which options are turned ON/OFF
- New: option to customise 404 page layout for all 404 pages
- New: option to customise login
Version 3.3.4: - Fix for null values error in db
- Fix Summernote
- Fix for reordering of first menu item
- Fix for deleting subpages
- Hide Summernote save dialog
- Fix 500 error when using port
- Fix issue with "undefined" error in the menu
- Fix canonical URL in default sky theme
- Fix for custom blocks