YoutubeCrazyVideos 2 is a user-friendly desktop software that enhances the youtube experience. It is a malware-free freeware with seamless navigation features for searching, playing, downloading, converting, and extracting audio.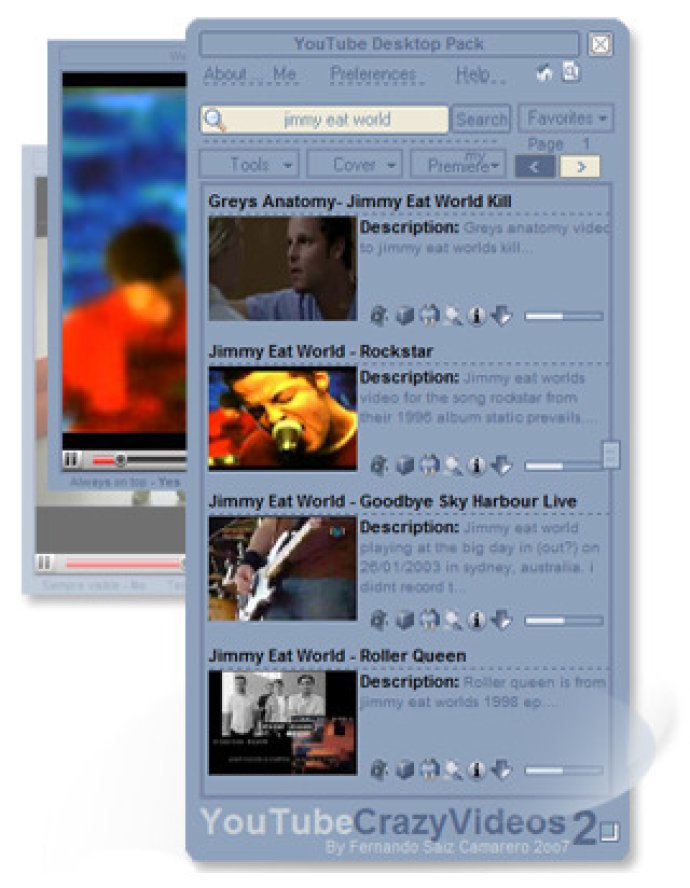 If you're an avid YouTube user, you'll definitely appreciate what YoutubeCrazyVideos 2 has to offer. This software suite is the ultimate desktop tool for enhancing your YouTube experience. The best part? It's completely free of malware, including spyware and adware.

Upon accessing the suite, you'll first notice the impressive graphical user interface. The design is modern and user-friendly, with easily accessible buttons and paging results. In just a few clicks, you can quickly search, find, play, download, and convert any clip to your desired format.

Aside from these primary features, YoutubeCrazyVideos 2 offers additional tools such as the ability to spy on other users, tagcloud, my premiere, and my favorites. The suite also includes an Flv converter, Flv audio extractor, and Flv player, all designed to make managing and viewing your YouTube videos as seamless as possible.

Users will be pleased to know that YoutubeCrazyVideos 2 is compatible with a variety of operating systems, including Windows 98, Me, 2000, Xp, and Vista. It also works well with most common software, including different combinations of browsers, instant messaging programs, and media players.

Overall, YouTube enthusiasts will appreciate the impressive variety of features provided by YoutubeCrazyVideos 2. From easy video downloading and converting, to helpful additional tools and a sleek user interface, this freeware suite is a top choice for anyone looking to elevate their YouTube experience.