AAC2AC3 Freeware converts AAC to Dolby Laboratories' AC3 audio compression technology. This software is considered the best solution for this conversion.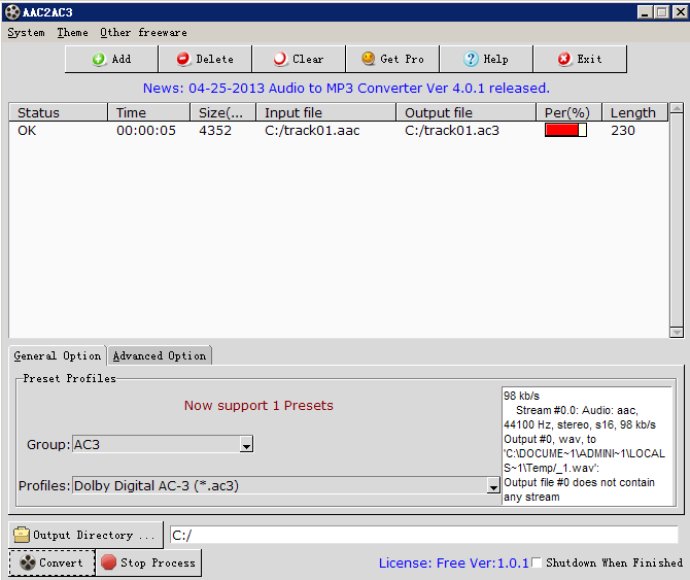 If you're someone who needs to convert AAC to AC3, then AAC2AC3 Freeware is definitely the software for you. Developed by Dolby Laboratories, AC3 is a name that you can trust in audio compression technology, and this software makes use of it expertly.

One of the best things about AAC2AC3 Freeware is its simplicity. You don't need to mess around with a bunch of complicated settings to get the conversion done. In fact, you can complete the task with just a few clicks, making it an ideal choice for beginners who may not be tech-savvy.

But even though it's beginner-friendly, AAC2AC3 Freeware also offers advanced functions for those who need them. It can detect your hardware configuration and choose the best conversion scheme automatically, which is a useful feature for more experienced users.

Another great thing about this software is that it supports batch conversion, meaning you can convert multiple files at once. It's also optimized for multithreading, which essentially means that it can carry out multiple conversion tasks at the same time, providing you with a greater than 200% converting speed. That's so fast that it's almost beyond your imagination!

Last but not least, AAC2AC3 Freeware can help you encode your AAC files into high-quality, non-corrupted AC3 files that you can then record onto a DVD or Blu-ray Disc. Plus, it's so efficient that it can automatically shut down your computer when the conversion is complete, saving you even more time and effort. Overall, this is an excellent software that is definitely worth checking out.
What's New
Version 1.0.1: N/A