AB bulk mailer is a leading email marketing program that can send up to 30,000 emails per hour. It has been purchased by over 3,200 users across 150 countries and includes multiple features such as email extractor, Twitter poster, and email verifier.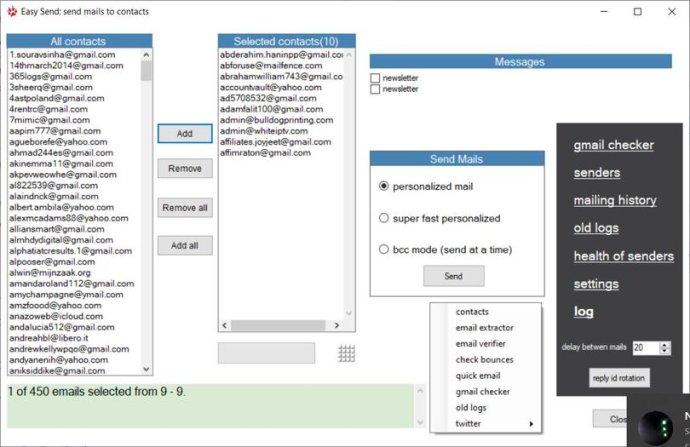 If you're looking for a way to find and target customers online, then AB Bulk Mailer is the software for you. This email marketing software has been recognized as the world's best-seller and boasts a range of features, including a built-in email extractor, email verifier, Facebook extractor, and Facebook/Twitter add poster. What's more, there are no monthly charges!

Imagine how much your business could benefit if your sales emails went directly to the inbox of potential customers. With over 3,200 copies of AB Bulk Mailer sold across 150+ countries, it's clear that many businesses have used this software to their advantage. As well as being a popular choice for year-round promotion, the software's Christmas Edition is an effective, free way to promote your business globally.

AB Bulk Mailer is a bulk mailing and email scheduling software that enables you to send free emails using multiple email accounts from popular providers such as Gmail, Yahoo, and GMX, or any SMTP server like Verizon or Amazon. You can use the software to send both personalized and bulk emails in text or HTML formats, with the capacity to send half a million emails per day per computer. Plus, you can send emails based on hourly or daily limits, and there are features for advanced lead generation, management, and targeted marketing.

The software also includes a free email verifier that can verify up to 500 email addresses at a time, as well as an email extractor that allows you to grab email addresses from websites, Facebook, YouTube, and Craigslist using Google search. The software checks for bounced mails, inbox status, and the health of SMTP servers, and even enables you to send unique messages with a 99% inbox delivery rate.

AB Bulk Mailer contains a free Gmail checker to prevent accounts from getting blocked and allows you to track what mails were sent, as well as extract mails from Craigslist, Twitter, YouTube, and Facebook. With built-in bounce checking functionality and automatic tweet/Facebook posting features, you can save time and resources when it comes to marketing efforts. AB Bulk Mailer has earned its reputation as the #1 bulk mailer on Softonic for the last four years, and it's easy to see why.
What's New
Version 8.7.4: twitter poster added