Easy Outlook Express Repair is a user-friendly application that quickly repairs corrupt dbx files in Outlook Express. With just two simple steps, you can fully recover lost messages and damaged folders.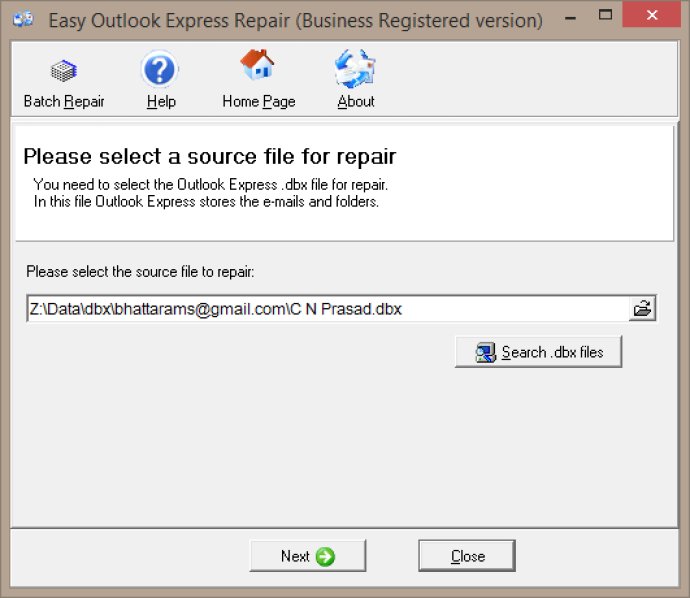 Easy Outlook Express Repair is a reliable utility for restoring damaged folders in Outlook Express. It is an ideal solution for anyone struggling with retrieving messages from missing or corrupted folders. With this software, recovering your lost messages is possible without relying on backup files. In addition, Easy Outlook Express Repair can help you recover damaged Outlook Express folders presenting a user-friendly interface.

When Outlook Express data files suffer damage, retrieving messages from the folders using Outlook Express becomes a problem. However, Easy Outlook Express Repair extracts messages from the damaged folders and saves them to disk, allowing you to view them in Outlook Express, import them to other mail clients or store them as a backup. The software does not require any special skills, and it only takes two easy steps to recover all your lost messages.

To retrieve messages from a damaged folder, specify the file to be restored and the location on the disk to save the recovered messages. After specifying the recovery details, press the Start Recovery button, and the software will read the selected dbx file, extract the messages and save them to the disk. During the demo version, only ten messages are saved.

Easy Outlook Express Repair contains an easy-to-use wizard divided into two pages for a straightforward process. On the first page, select the Outlook Express dbx file to recover, and on the second page, enter the location where to save the recovered messages.

The software supports the *.dbx file format of Microsoft Outlook Express versions 5/6, repairs e-mails, news, and attachments, and repairs *.dbx files with a size of more than 2 GB. Additionally, the software offers a batch mode feature for repairing multiple files at the same time, and a search option to locate dbx files on your computer.

Overall, Easy Outlook Express Repair is an effective tool for retrieving missing or damaged Outlook Express folders and messages. Its user-friendly interface and two-step process simplify the recovery process, making it an ideal option for anyone struggling with lost or corrupted data.
What's New
Version 1.7.27: Added last fix for best repair of Outlook Express 6.0