Web OfficeView is a browser-based solution for managing and displaying employee status with customizable remarks like "in" or "on vacation". It includes a messaging system and other features.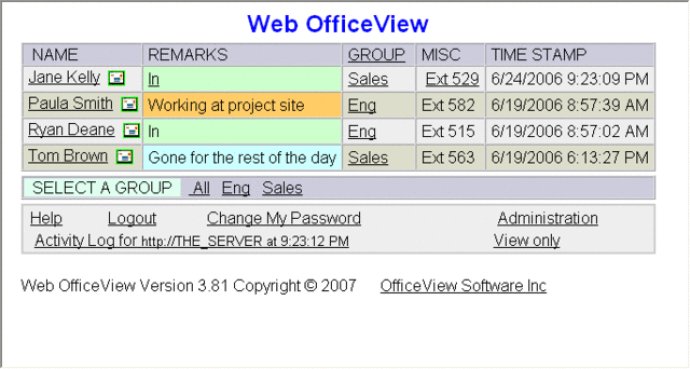 Web OfficeView is an add-on software that offers an excellent in-out board functionality through any web browser. With this software, users can view customized remarks to determine the status of their co-workers, including "in", "in but unavailable", "on vacation until X", and more.

With this feature constantly visible, your office assistants can oversee your co-workers whereabouts and respond to phone calls in an informed manner. Web OfficeView offers a messaging system that can be disabled, as well as a screen for showcasing employee information such as telephone, fax, and pager numbers.

Thanks to this virtual in-out board, administrators and employees can maintain an excellent level of communication and accurately determine the status of their team members quickly. The ease of use, customizable remarks, and message systems make Web OfficeView an excellent addition to any workplace.
What's New
Version 3.94: Additional features added
Version 3.9: Additional features added
Version 3.83: Additional features added
Version 3.71: Additional features added
Version 3.63: Additional features added
Version 3.62: Additional features
Version 3.6: Improved Look, additional features