abylon KEYSAFE is a user-friendly password management software that offers multiple access options including memory stick, certification, chip card, or password. This software has multiple encryption features using Blowfish or AES-algorithm, Drag&Drop functions, and a random key generator. It is an ideal solution for securing sensitive information.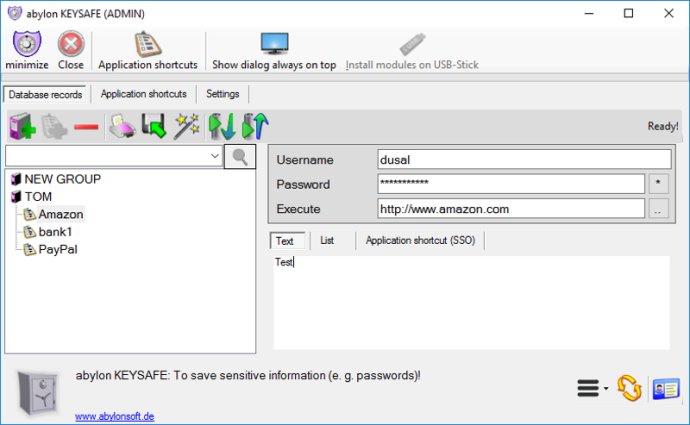 If you're someone who constantly needs to remember various passwords and access data for your different accounts including banking, email and windows logins, then the abylon KEYSAFE password manager might be just what you need to help ease that burden. With the abylon KEYSAFE, you can easily manage all of your passwords and access data without having to remember them all yourself.

The abylon KEYSAFE makes managing your passwords simple and easy. All you need is one "MASTER-password" or an alternative key, such as a removable memory stick, CD, chip card or X.509-certificate. Once you have entered and saved your passwords and access data, you can quickly and easily input them into the appropriate browser or program fields by using the Drag&Drop feature.

Along with password management, the software also offers an abylon KEYGENERATOR which includes a random password generator feature. This tool is perfect for creating strong and unique passwords that are difficult to crack, giving you added security and peace of mind.

Overall, if you're tired of struggling to remember multiple passwords and access data, the abylon KEYSAFE is a simple and reliable solution. Whether you need to manage passwords for your work or personal accounts, this software can definitely help simplify the process.
What's New
Version 23.60.1: New fetures, see https://www.abylonsoft.de/versionshistory.htm?s=KEYSAFE
Version 15.90.1: N/A