Advanced ETL Processor is an automated software that extracts, transforms, and validates data from any database and loads it into another database. It allows for previewing the ETL flow results at any time.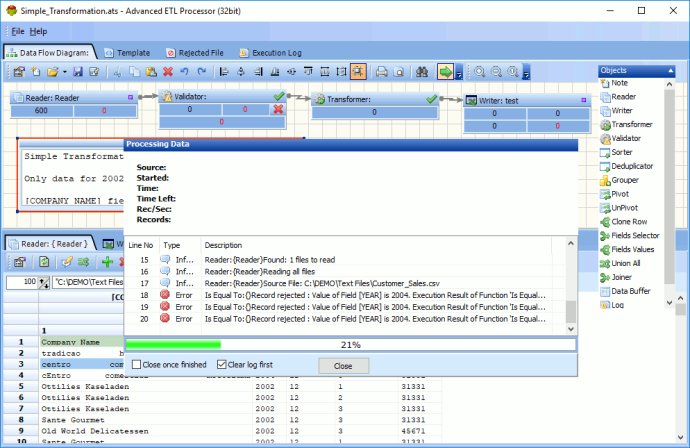 Advanced ETL Processor is an efficient software solution that can extract data from any database, transform it, validate it, and load it into another database automatically. What sets Advanced ETL Processor apart is its unique technology called "What You See Is What You Load" which allows users to save time during testing and design of validation and transformation processes. The technology shows users how data will be transformed and loaded into the data warehouse or database without actually loading it. Furthermore, users can press the "Preview" button at any time to see what the results of an ETL flow would look like.

Advanced ETL Processor is versatile and can aid users in extracting data from an Excel file, validating date formats, sorting data, deduplicating it, and loading it into the database, running stored procedures or SQL scripts upon completion of loading. Unlike other software products such as Oracle SQL loader, BCP, DTS or SSIS, Advanced ETL Processor can also add new records and update old records based on the key defined by the user.

Another benefit of Advanced ETL Processor is its compatibility with a wide range of software products including Excel, MS Access, DBF, Text files, Oracle, MS SQL Server, Interbase/Firebird, MySQL, PostgreSQL, SQLite, QVD, QVX, Salesforce, Brightpearl, RSS Google Spreadsheets or any ODBC compliant database. Users can also load data from multiple files or even tables using a mask.

In the event of incorrect data formats, Advanced ETL Processor writes a detailed message into the error log and a record into rejected records file. Overall, Advanced ETL Processor is an excellent software solution that can aid users in transforming and loading data efficiently.
What's New
Version 3.9.6.23: + Improved: JSON Data Handling
+ Added: Support for SQL Server 2017
+ Improved: Software registration process
- Fixed: Issues with Australian Post Code validation
- Fixed: Issues with loading data into varchar(max) field
- Improved: SQL Server error handling