With ALLMediaServer, you can easily stream media from your computer to your Samsung AllShare or DLNA-compatible devices. Enjoy your favorite movies, music, and photos on your TV or smartphone with ease.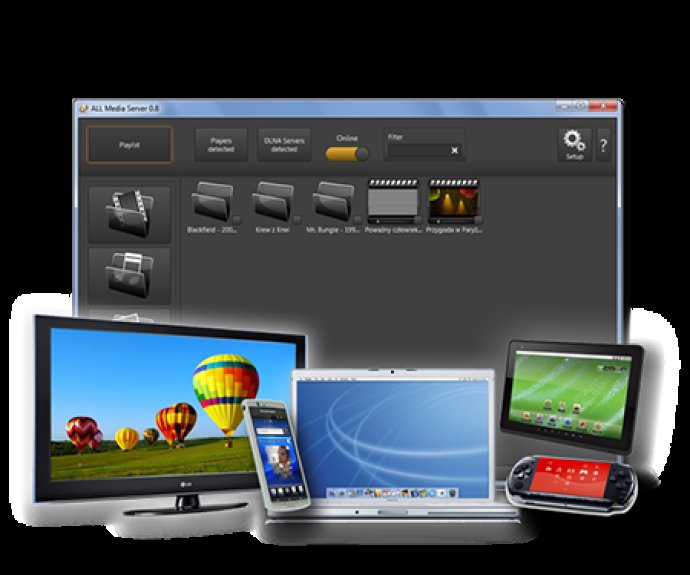 If you're looking for an easy-to-use DLNA server that allows you to watch movies, listen to music, or view photos on your TV, smartphone, or other connected equipment, ALLMediaServer could be the tool for you. The device you want to view files from must be connected to your computer via local Ethernet or WiFi. Setting up this network is straightforward, and it not only lets you watch movies or listen to music using ALLMediaServer, but also browse the Internet or connect to instant messaging with other users of the Internet.

Despite advanced features, ALLMediaServer is very easy to use, making it unique from other programs of this type. Unlike other DLNA servers, there's no need to install many add-ons to run the program, which could disrupt your system. The program supports audio-video streaming (SD and HD) as well as pictures in their original format or real-time transcoding. When adding, modifying, or deleting files, the program automatically updates your libraries. Additionally, it supports most receivers, such as TVs, Blu-ray DVD players, smartphones, Xbox, and PS3. Moreover, it can rotate images according to how they were taken with a camera, support external subtitles (srt format), and come with easy cataloging on the AUDIO/VIDEO/PICTURES files DLNA compliant. It's also easy to search for files by name, part of it, or tags such as artist, genre, album, and more.

It's effortless to add entire directories and subdirectories to the library with two clicks. Besides, you can use ALLMediaServer as the ALLPlayer PlayList and change standard DLNA images to your preferences. The program also supports covers/screenshots from movies and mp3, making it not only easy to use but also an excellent multimedia tool.
What's New
Version 0.94: N/A